Directory of Mark Twain's maxims, quotations, and various opinions:

A B C D E F G H I J K L M N O P Q R S T U V W X Y Z

---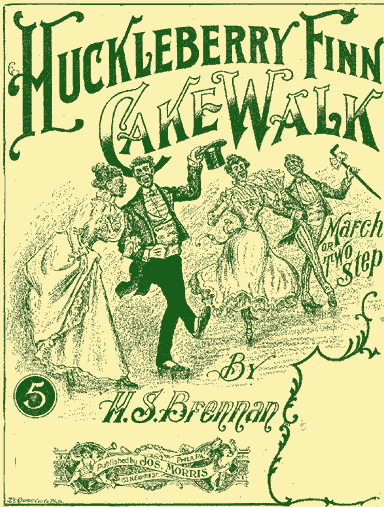 Sheet music from the
Dave Thomson collection
CAKEWALK
Our negroes in America have several ways of entertaining themselves which are not found among the whites anywhere. Among these inventions of theirs is one which is particularly popular with them. It is a competition in elegant deportment. They hire a hall and bank the spectators' seats in rising tiers along the two sides, leaving all the middle stretch of the floor free. A cake is provided as a prize for the winner in the competition, and a bench of experts in deportment is appointed to award it. Sometimes there are as many as fifty contestants, male and female, and five hundred spectators. One at a time the contestants enter, clothed regardless of expense in what each considers the perfection of style and taste, and walk down the vacant central space and back again with that multitude of critical eyes on them. All that the competitor knows of fine airs and graces he throws into his carriage, all that he knows of seductive expression he throws into his countenance. He may use all the helps he can devise: watch-chain to twirl with his fingers, cane to do graceful things with, snowy handkerchief to flourish and get artful effects out of, shiny new stovepipe hat to assist in his courtly bows; and the colored lady may have a fan to work up her effects with, and smile over and blush behind, and she may add other helps, according to her judgment. When the review by individual detail is over, a grand review of all the contestants in procession follows, with all the airs and graces and all the bowings and smirkings on exhibition at once, and this enables the bench of experts to make the necessary comparisons and arrive at a verdict. The successful competitor gets the prize which I have before mentioned, and an abundance of applause and envy along with it. The negroes have a name for this grave deportment-tournament; a name taken from the prize contended for. They call it a Cakewalk.
This Shelley biography is a literary cake-walk. The ordinary forms of speech are absent from it. All the pages, all the paragraphs, walk by sedately, elegantly, not to say mincingly, in their Sunday-best, shiny and sleek, perfumed, and with boutonnieres in their button-holes; it is rare to find even a chance sentence that has forgotten to dress.
- "In Defense of Harriet Shelley"



Quotations | Newspaper Articles | Special Features | Links | Search