MARK TWAIN IN THE SAN FRANCISCO DRAMATIC CHRONICLE
1865
---
SAN FRANCISCO DRAMATIC CHRONICLE, December 20, 1865, [p. 3].
[EDITOR'S NOTE: These items have not been previously republished elsewhere. They are included in this collection because of their potential to be the work of Clemens and are deserving of further research and consideration. In the first item "Topsy Turvy" was the pen name for Elizabeth Chamberlain who also wrote under the pen name Carrie Carlton for the Golden Era. She died in May 1868, a few years after her marriage to Washington Wright.]
_____
WELL! WELL!
"Topsy Turvy," of the Sunday Mercury, astonishes us. We were going to write an epithalamium when we saw the announcement of her marriage; but we didn't, because we thought she wouldn't like it referred to until she had had a little time to get over the shock. To our surprise, she doesn't appear to mind it a bit. We have a suspicion that "Topsy" is far more devoted to the literary profession than we supposed her to be. We shouldn't wonder at all if she married for the sake of getting a paragraph for her gossip! Well, it was worth the sacrifice. Here it is:
EXPLANATORY.

I heard a voice saying unto me, "Wright?" And I Wrighted. Wasn't that right? Lest any misapprehension may arise in the minds of my friends -- it is no sign of vanity to say my many friends -- I wish to state that literally, gossiparily and politically, I am all Wright. Lincoln was a wonderfully good man, but he was human. Jackson was bout as smart as they make, but he had his faults like the rest of us. It is hard to find one to pin our faith to entirely, but after mature deliberation I am prepared to say, I go for Washington Wright -- or wrong.
If "Topsy" righted we suppose she is no longer topsy-turvy. Dear, dear! The honeymoon has not yet waned a quarter, and she makes a pun on her husband's name. Well, it's her name now, and we suppose she thinks she has a right to do what she likes with it -- and perhaps pun-money is as good as pin-money. We wish "Topsy" every happiness and much success in her profession; she will compare favorable with the best feuilletonistes -- let's see how she will compare now; positive Wright, comparative writer, superlative writist.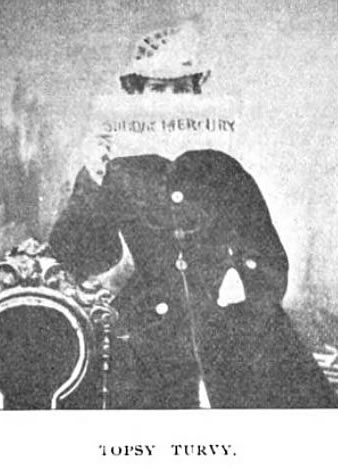 [The mysterious Topsy Turvy -- this photo did not appear in the original news story. Photo source:
The Story of the Files: A Review of California Writers and Literature
By Ella Sterling Mighels, Chicago (Ill.). World's Columbian Exposition, 1893.
Published by Cooperative printing co., 1893. Available on google book search.]
_____
A LITTLE BEHINDHAND
Le National, a French paper issued weekly in this city, is a very excellent publication in many respects. For instance, it has a poet, "D.F.," who writes admirable satires and epigrams, and possesses more talent than the whole drove of wild asses who, having snuffed up the east wind and become inflated, explode in poetical brayings in the Flag. "D.F." is decidedly good. Le National also makes good selections; in its last issue it published a very clever satirical paper on the subject of the Pope's Allocution condemning Free Masons. But the advertisements of Le National are decidedly behind the times. The Opera House advertisement is headed, "Engagement of Mr. G. C. Boniface, the celebrated dramatic artiste;" then follows a list of the members of the company: "Messers. L. Aldrich, G. Pauncefort, C. L. Graves, D. C. Anderson, Wm. Leman, J. Hill; Mrs. Sophie Edwin, Mrs. Fred Franks, C. R. Saunders, Bell Band," etc. The roughest thing about this is making poor Fred Franks a woman. He has appeared in petticoats on the stage on several occasions, when we suppose the editor of Le National must have seen him and been mislead as to his sex -- but he is popularly supposed to be a man. Then in the Olympic advertisement we are informed that "W. Worrell, the best known and the most popular of directors of Californian melodeons [Good gracious!] has re-appeared on the scene of his first and brilliant successes." That sort of thing won't do Monsieur le redacteur du National. Overhaul those dead advertisements, and make them look a little more life-like.
_____
AFTER HIM AGAIN
The Era's Theologian is again on the war-path after the parsons. He has let them alone for a long while, but he now returns to the charge with redoubled energy and backed by fresh auxiliaries. The cessation of hostilities was but a deceitful ruse, during which he was industriously preparing for a new campaign. Having spent a month or so in mousing through all the Era's Eastern exchanges for assaults upon the clergy and the Christian Church, he now enters the field fortified by long editorials from the Springfield Republican and the Chicago Tribune, which, interlarded with original lucubrations in his own characteristic vein, he hurls against the enemy in the shape of a sneering tirade of a column and a half. The Theologian seems thoroughly zealous in the prosecution of the good work for which he has devoted himself, and there is a certain sanguine air about his efforts which shows very plainly that he has quite a dim conception of the magnitude of his undertaking. Indeed there is something in the touching simplicity and honest hopefulness with which he "goes in" to demolish "orthodox Christianity" that pointly reminds us of an unsophisticated and unbreeched three year old engaged in the enterprise of cutting down an oak with a dilapidated jack knife.
_____
[transcribed from microfilm]