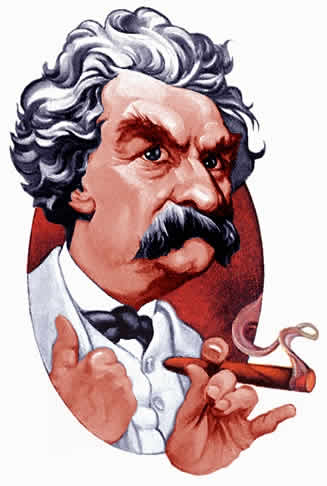 Illustration from the
Dave Thomson collection.
From THE UNABRIDGED MARK TWAIN,
Running Press, 1976 with opening remarks by Kurt Vonnegut, Jr.
(c) 1976 Charles Santore
"I know a good cigar better than you do, for I have had sixty years' experience. No, that is not what I mean; I mean I know a bad cigar better than anybody else. I judge by the price only; if it costs above 5 cents, I know it to be either foreign or half foreign and unsmokable.
"By me I have many boxes of Havana cigars, of all prices, from 20 cents apiece up to $1.66 apiece; I bought none of them; they were all presents; they are an accumulation of several years. I have never smoked one of them, and never shall. I work them off on the visitor. You shall have a chance when you come.
- letter to L. M. Powers, November 9, 1905; quoted in The New York Times, March 26, 1911