CIRCUMSTANCE
We are strange beings, we seem to go free, but we go in chains--chains of training, custom, convention, association, environment--in a word, Circumstance--and against these bonds the strongest of us struggle in vain.
- "3,000 Years Among the Microbes"

Circumstance--which moves by laws of its own, regardless of parties and policies, and whose decrees are final and must be obeyed by all--and will be.
- Mark Twain in Eruption

Circumstances make man, not man circumstances.
- Mark Twain's Notebook

A man may plan as much as he wants to, but nothing of consequence is likely to come of it until the magician circumstance steps in and takes the matter off his hands.
- "The Turning Point of My Life"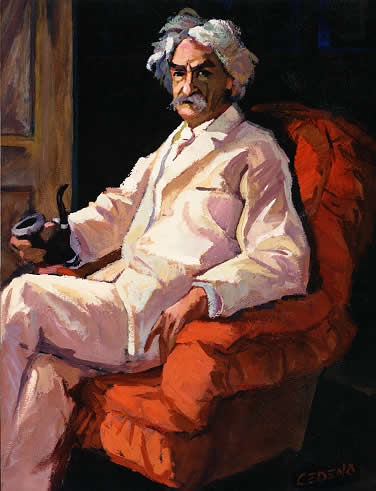 Portrait of Clemens by Mike Cedeno
from the Dave Thomson collection.