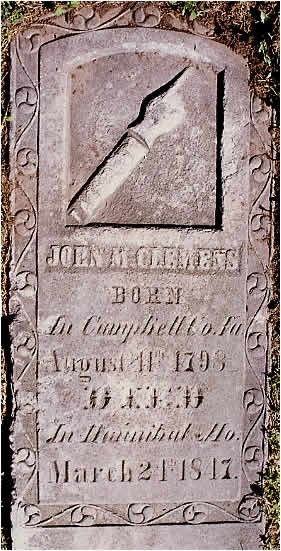 John Marshall Clemens'
grave marker in Mount Olivet Cemetery near Hannibal, MO.
Photo courtesy of Dave Thomson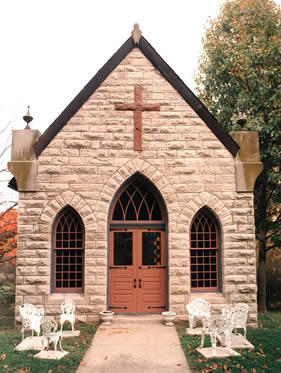 Mount Olivet Chapel near
Hannibal, MO.
John Marshall Clemens' headstone was housed in the chapel at the time of the accompanying newspaper article.
Photo courtesy of Dave Thomson

More about John Marshall Clemens and his life and work can be found in:
SEARCHING FOR JIM;
SLAVERY IN SAM CLEMENS'S WORLD
by Terrell Dempsey
available from amazon.com
CHICAGO DAILY TRIBUNE,
November 21, 1909, p. J22
SQUIRE CLEMENS,
FATHER OF 'MARK TWAIN,'
INSISTED ON KEEPING PEACE.
By E. H. Smith
"Wonder to me that the fellows that delight so much I writing stories about 'Mark Twain' never give a thought to Sam's father, John M. Clemens," remarked Col. John L. RoBards, a close friend of Twain, although some years his junior, the other day. Justice Clemens stood high in Hannibal as a most conscientious magistrate and a man of unusually good sense. He was studious and took his position with much seriousness.
"Most cases then ended in the 'squire's court, which was a tribunal of importance. Justice Clemens righted things outside of court as well as in it when the emergency demanded it. Two litigants, after a decision by the justice, went away quarreling. Once in the street, they went from words to blows, then clinched and soon were rolling each other in the dirt. Justice Clemens picked up his gavel and hurried outside. There he tapped each of the combatants on the head and commanded peace. The fighters looked up, and terrified at the sight of a court that might be in session anywhere, they let go of each other, apologized to the justice and went their way.
"That illustrates the man. He was quick to act and generally was in the right.
"In 1841, soon after coming from Florida to Hannibal with his family, John Clemens was a member of a jury in Circuit court that found three Illinois men guilty of stealing slaves and fixed their punishment at twelve years in the penitentiary. The case became historic. George Thompson, James Burr, and Alanson Work came from Quincy into Missouri and conferred with some slaves working near the mouth of the Fabius river. The plan was to meet the negroes on a certain night and escort them to liberty. The negroes agreed to the plot, but told their masters, who arranged to capture the liberators. This was done with the aid of the slaves who were to be freed and the slaves actually guarded and prevented from escaping the three men who had come to liberate them. The populace was much angered over the matter of men coming from another state into Missouri to run off slaves and the prisoners came near to being lynched. The defendants were indicted for grand larceny, tried before Judge McBride, and all found guilty. Before long, however, the governor pardoned them."
Col. RoBards has a number of legal instruments executed by Justice Clemens and bearing his signature. They are written in a careful, easily read hand, the unmistakable work of the scholar.
Justice Clemens' office building stands today on Bird street between Main street and the river, just as it did in the '40s, with the exception of a possible coat of paint now and then. This is the office to which the body of a murdered man was taken one night, to await Justice Clemens' official investigation the next day. "Sam" (Mark Twain) hadn't been notified about the sinister guest in his father's office, and, as it happened, he had been out on an expedition that night and he resolved to sleep in the office rather than to arouse the family at home, with consequences that experience had taught him to dread. So he turned in on the lounge in his father's office until a vagrant moonbeam revealed his roommate, whereupon he left, taking the window sash along.
In front of the justice's office is a cobblestone gutter of a sort that may have been quite an improvement when the nineteenth century was wearing short dresses. Across from the office, southeast, is the lumber yard, with scarcely the change of a stick, where raids were planned and the loot divided in the darkness of the night.
Looking up Bird street from the river, it is difficult to see where any newfangled notions of paving or building have marred the civic system of Tom Sawyer's and Huck Finn's day. On the corner of Main street is a two story frame building with imitation Grecian columns, fluted and surmounted with mock capstones. This make-believe grandeur adorns the old building on both sides that are exposed to view. When Mark Twain was here on his last visit he remarked to George Mahan the attorney, with whom he was standing in the heart of his old play district:
"We boys could understand in a dim way why he might want to put on airs by having those phony pillars run up there, but it was quite beyond us to imagine why he'd to the extraordinary expense of fluting 'em."
The humorist hesitated a moment and then, reaching into his pocket, pulled out some change and regarded it thoughtfully. Then selecting a quarter, he went into the store and bought a pound of mixed candies. He came out and offered the package to his friends.
"I can say now, with truth," he remarked, "that I've been buying candy at that shop sixty years. Used to go there when I was a boy, you know."
The people of Hannibal have not given up hope that Sam-they all call him that here-will come back to them. Out in beautiful Mount Olivet cemetery, a lordly hill, overlooking the Mississippi river and the counties of Pike and Ralls, is a stone chapel, faced with ivy. All about it are firs and evergreens; the carpet of grass is soft and velvety. In that chapel, fastened to the far end by wire, is an old-fashioned flat tombstone. On it is this inscription:
Passed On,
JOHN M. CLEMENS.
Born in Campbell County,
Virginia,
August 11, 1798.
Died
In Hannibal, Mo.,
March 24, 1847.
The old slab was given this honorable place by Col. RoBards, who purchased the grounds in 1870, and now is secretary-treasurer of the cemetery association. An index, near the top of the monument, points upward.
"When Mr. Clemens authorized me to place new stones to mark the grave of each member of his family buried here," Col. RoBards said, "I took this one down and preserved it. Why? Sam may come back here some day, and if he does, I want him to see this old tombstone of his father. I want him to see that hand and where it points."