Aboard the W. P. Snyder, Jr.
at Marietta, Ohio 1993

David Thomson
1946-2021

Dave Thomson was a native of Los Angeles, California holding a degree in Fine Arts from Chouinard Art Institute where he majored in Film Arts, and he worked on animated feature films, primarily at the Walt Disney Studio, for thirty years before retiring. He was an award winning photographer and a member of the Cinematographer's Guild.

Dave was a long time writer, researcher and collector of Mark Twain memorabilia and an honorary member of the Mark Twain Home Foundation Board of Hannibal, Missouri. He also wrote book and media reviews for the Mark Twain Forum.
Dave's professional career includes the following:
Walt Disney
Scene Planning:
Beauty and the Beast, 1991
Mickey's The Prince and the Pauper, (1990)
The Little Mermaid, 1989
Who Framed Roger Rabbit, 1988
Oliver & Company, 1988
The Great Mouse Detective, 1986
The Black Cauldron, 1985
The Fox And The Hound, 1981
The Many Adventures Of Winnie The Pooh, 1977
Pete's Dragon, 1977
The Rescuers, 1977
Robin Hood, 1973

Acting role:
As Count Dracula: The Mystery in Dracula's Castle, 1973
Photographic layout:
The Walt Disney Story
The Fantasy Film Worlds of George Pal - pics from the film available online
BOOKS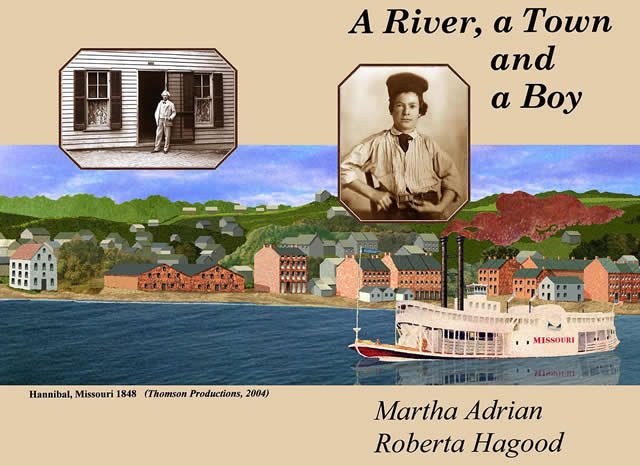 Dust Jacket Design and Editing: A RIVER, A TOWN AND A BOY
by Martha Adrian and Roberta Hagood.
Available from Mark Twain Book Shop, 213 Hill St., Hannibal, MO 63401
Phone 573-221-2140


Front and back jacket of
Hannibal Heritage


Dust Jacket Design and
Co-author:
HANNIBAL HERITAGE
J. Hurley & Roberta Hagood, and Dave Thomson,
Heritage House Publishing, 2003.
This book may be ordered from the publisher at:
Josten's
112 S. Main Street U.S.A.
Marceline, MO 64658
Phone toll free: 800-445-2036

The Hagoods had not planned to publish another book until Dave Thomson showed them his design for the dust jacket with the title "Hannibal Heritage." Upon seeing the dust jacket Hurley and Roberta resolved to go ahead with this final project which was compiled during the time that the couple both occupied the same room in the Willow Care convalescent home in Hannibal. Roberta continued working with unflagging energy to complete this collection after Hurley passed away in November 2002. The book has been received with enthusiasm in Hannibal since its release in December of 2004 and continues to be sold in local book stores and gift shops.



| | |
| --- | --- |
| | Artistic contributions to SEARCHING FOR JIM SLAVERY IN SAM CLEMENS'S WORLD, by Terrell Dempsey (Univ. of Missouri Press, 2003) including detail of a map of Missouri, photograph of the headstone of the slave Agness Flautleroy and preparation of contemporary newspaper advertisements. |
Jacket photography for:
Vine and Fig Tree: Salt River County Chronicles, by Goldena Howard (Trafford, 2002)

"Author Goldena Howard has created a time capsule of people, mores, culture and language from 1880 - 1960. Set in the fictional communities of Salt River County, Missouri, the stories capture a time and place that exist only in the memory of some. The characters are saintly and less-than saintly; they love and hate, scheme and plan. Themes of honesty, love and wholesomeness run throughout the stories."
Dust jacket and end paper designs (with Ed Garbert):

Drawing by Dave Thomson based on Henry Lewis' panoramic sketchbook of Hannibal in 1848.
Featured on the front cover and fly leaves of
Hannibal Too
(1986)
Hannibal Bridges the Mississippi, Hagood, J. Hurley.; Hagood, Roberta Roland.; Montgomery, Mary Lou Spaun. (Hannibal-Courier Post, 2000)

Hannibal La Grange College History, Hagood, J. Hurley.; Hagood, Roberta. (Josten's, 1995)
Hannibal Flood 1993, Hagood, J. Hurley.; Hagood, Roberta Roland. (Hannibal-Courier Post, 1994)
Hannibal Yesterdays, Hagood, J. Hurley.; Hagood, Roberta Roland, (Josten's, 1992)
Hannibal Mark Twain's Town, Hagood, J. Hurley.; Hagood, Roberta Roland. (Walsworth, 1987)
Hannibal Too, Hagood, J. Hurley.; Hagood, Roberta Roland. (Walsworth, 1986)

Graphic contributions from the Dave Thomson collection are also included in:
Mark Twain: An American Star, MacLeod, Elizabeth. (Kids Can Press, 2008)
The Members of the Lotos Club, 1870 through 2007, Moskin, Robert J. and Nancy Johnson. (NY: Lotos Club, 2008)
JOURNAL ARTICLES
BOOK AND MEDIA REVIEWS
Aller, Susan, Mark Twain: A & E Biography (Lerner Publications, 2001)
Burns, Ken and Dayton Duncan and Geoffrey C. Ward. Mark Twain, An Illustrated Biography (Alfred A. Knopf, 2001)
Chou, Steve, Hannibal, Missouri: Bluff City Memories (Arcadia Publishing, 2002)
Graphic Classics: Mark Twain, ed. Tom Pomplun (Eureka Productions, 2004)
Mark Twain: A Film Directed by Ken Burns. (PBS Home video, 2002)
Smith, Llewelyn and Andrew Ward, The Jubilee Singers: Sacrifice and Glory (The American Experience). Alexandria, VA: PBS Home Video, 2000.
Tom Sawyer. Hollywood: Library of Moving Images, 2000. 44 minutes. (Rerelease of 1917 silent film directed by William Desmond Taylor for Paramount.)
Ward, Andrew, Dark Midnight When I Rise: The Story of the Jubilee Singers Who Introduced the World to the Music of Black America. (New York: Farrar, Straus and Giroux, 2000)
PHOTOGRAPHY
1st place winner, Mississippi River Museum, National Rivers Hall of Fame, "Images of American Rivers" Dubuque, Iowa, May, 1989

Selected images from Dave Thomson's "Image Harvest" of Mark Twain's Missouri
OTHER PROJECTS


Home | Quotations | Newspaper Articles | Special Features | Links | Search