Directory of Mark Twain's maxims, quotations, and various opinions:

A B C D E F G H I J K L M N O P Q R S T U V W X Y Z

---
DOGS
Heaven goes by favor. If it went by merit, you would stay out and your dog would go in.
- Mark Twain, a Biography

If you pick up a starving dog and make him prosperous, he will not bite you. This is the principal difference between a dog and a man.
- Pudd'nhead Wilson's Calendar

The dog is a gentleman; I hope to go to his heaven, not man's.
- Letter to William D. Howells, 2 April 1899


Illustration from first edition of FOLLOWING THE EQUATOR.
Color tint by Kent Rasmussen © 2004.
On the 22d of June he sold his dog -- said 'Dern a dog, anyway, where you're just starting off on a rattling bully pleasure tramp through the summer woods and hills -- perfect nuisance -- chases the squirrels, barks at everything, goes a-capering and splattering around in the fords -- man can't get any chance to reflect and enjoy nature -- and I'd a blamed sight ruther carry the claim myself, it's a mighty sight safer; a dog's mighty uncertain in a financial way -- always noticed it-- . . .
- A Tramp Abroad

Mark Twain and General Miles
"Let a sleeping dog lie." It is a poor old maxim, & nothing in it: anybody can do it, you don't have to employ a dog.
- inscription written in copy of Adventures of Huckleberry Finn to Margery Clinton, 18 August 1908
A composite dog is a dog that's made up of all the valuable qualities that's in the dog breed -- kind of a syndicate; and a mongrel is made up of the riffraff that's left over.
- Autobiographical dictation, 11 October 1907. Published in Autobiography of Mark Twain, Vol. 3 (University of California Press, 2015)
Lately Stormfield has distinguished itself by getting broken into by burglars. It seems strange to me that a New York architect should have overlooked so glaring a necessity as a burglar alarm for so isolated a house as this is, when I reflect that New York is only an hour and a half away; that it contains four millions of people, and that the most of them are burglars. It would not have occurred to me to employ a dog, because a dog barks; he barks at anything and everything that comes along, and therefore is a nuisance; of course he would bark at a burglar, and I would rather have the burglar.
- Autobiographical dictation, 6 October 1908. Published in Autobiography of Mark Twain, Vol. 3 (University of California Press, 2015)
I do not like dogs, because they bark when there is no occasion for it; but I have liked this one from the beginning, because he belonged to Jean, and because he never barks except when there is occasion -- which is not oftener than twice a week.
- "The Death of Jean"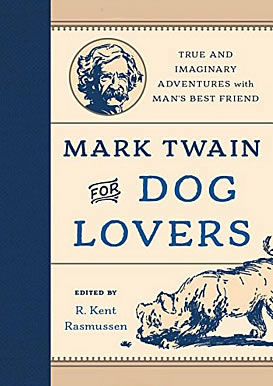 Recommended reading from amazon.com: Mark Twain for Dog Lovers


Quotations | Newspaper Articles | Special Features | Links | Search