EVE
I was greatly interested in the incident of Eve and the serpent, and thought Eve's calmness was perfectly noble. I asked Mr. B. if he had ever heard of another woman who, being approached by a serpent, would not excuse herself and break for the nearest timber.
- "Is Shakespeare Dead?"
Adam was not alone in the Garden of Eden, however, and does not deserve all the credit; much is due to Eve, the first woman, and Satan, the first consultant.
- Notebook, 1867
Wheresoever she was, there was Eden.
- "Adam's Diary"
After all these years, I see that I was mistaken about Eve in the beginning; it is better to live outside the Garden with her than inside it without her....I should be sorry to have that voice fall silent and pass out of my life.
- "Adam's Diary"
Adam and Eve had many advantages, but the principle one was that they escaped teething.
- Pudd'nhead Wilson's Calendar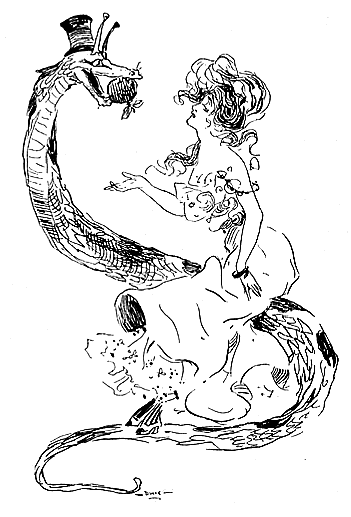 Illustration by "Dwig" from the
Dave Thomson collection