Directory of Mark Twain's maxims, quotations, and various opinions:

A B C D E F G H I J K L M N O P Q R S T U V W X Y Z

---
FAME
....Robert Louis Stevenson and I, sitting in Union Square and Washington Square a great many years ago, tried to find a name for, the submerged fame, that fame that permeates the great crowd of people you never see and never mingle with; people with whom you have no speech, but who read your books and become admirers of your work and have an affection for you. You may never find it out in the world, but there it is, and it is the faithfulness of the friendship, of the homage of those men, never criticizing, that began when they were children. They have nothing but compliments they never see the criticisms, they never hear any disparagement of you, and you will remain in the home of their hearts' affection forever and ever. And Louis Stevenson and I decided that of all fame, that was the best, the very best.
- speech, 11 January 1908

A 1907 print by Francis Luis Mora records the conversation between Robert Louis Stevenson and Clemens on a bench in the square. The original illustration is now in the Grill Collection of the National Arts Club.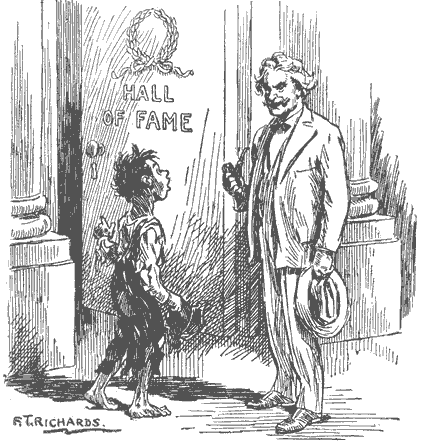 Cartoon from LIFE magazine, December 9, 1920
When one receives a letter from a great man for the first time in his life, it is a large event to him, as all of you know by your own experience. You never can receive letters enough from famous men afterward to obliterate that one, or dim the memory of the pleasant surprise it was, and the gratification it gave you.
- Mark Twain's Speeches, "Unconscious Plagiarism"
Fame is a vapor; popularity an accident; the only earthly certainty is oblivion.
- Mark Twain's Notebook

[This undated quote was pencilled into Mark Twain's notebook for August - December 1867. A longer version of this quote actually originated with Horace Greeley and was published in a newspaper series titled "Recollections of a Busy Life," by Horace Greeley, The New York Ledger, 7 December 1867, p. 4. Mark Twain evidently copied Greeley's quote next to a brief entry in his notebook regarding seeing Greeley. I am indebted to Noah Altshuler for bringing Greeley's column to my attention.]
You are aware that public men get ample credit for all the sins they commit, and for a multitude of other sins they were never guilty of. A private citizen escapes public scrutiny, and fares all the better for it.
- Letter to Olivia Clemens, 13 February 1869
Every great personage must be shadowed by a parasite who is infinitely little -- Johnson had his Boswell.
- notation written on the flyleaf of Clemens's copy of A. S. Evans's Our Sister Republic
To arrive at a just estimate of a renowned man's character one must judge it by the standards of his time, not ours.
- Personal Reflections of Joan of Arc
It is a pathetic thought. We struggle, we rise, we tower in the zenith a brief and gorgeous moment, with the adoring eyes of the nations upon us, then the lights go out, oblivion closes around us, our glory fades and vanishes, a few generations drift by, and naught remains but a mystery and a name.
- "The Secret History of Eddypus"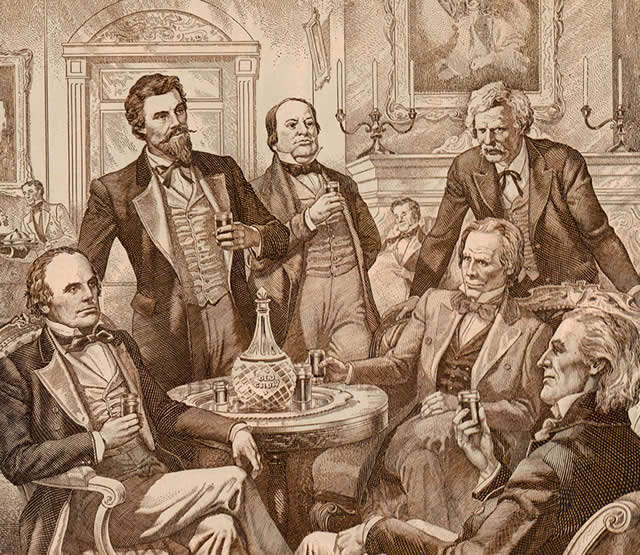 Artwork from Old Crow ad titled "HOW MANY OF THESE FAMOUS AMERICANS CAN YOU IDENTIFY?"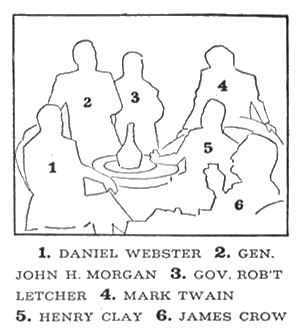 Quotations | Newspaper Articles | Special Features | Links | Search