Directory of Mark Twain's maxims, quotations, and various opinions:

A B C D E F G H I J K L M N O P Q R S T U V W X Y Z

---
FREEDOM OF SPEECH
As an active privilege, it ranks with the privilege of committing murder; we may exercise it if we are willing to take the consequences.
- "The Privilege of the Grave," published in Who is Mark Twain?

Detail from "Rush City" poster by Gus Heege.
"A Dose of Pepper Causes the Orator to Loose His Voice"
from Library of Congress Prints and Photographs Division
Sometimes my feelings are so hot that I have to take to the pen and pour them out on paper to keep them from setting me afire inside; then all that ink and labor are wasted, becaue I can't print the result. I have just finished an article of this kind, and it satisfies me entirely. It does my weather-beaten soul good to read it, and admire the trouble it would make for me and the family. I will leave it behind, and utter it from the grave. There is free speech there, and no harm to the family.
- "The Privilege of the Grave," published in Who is Mark Twain?
In America--as elsewhere--free speech is confined to the dead.
- Notebook, 1904
_____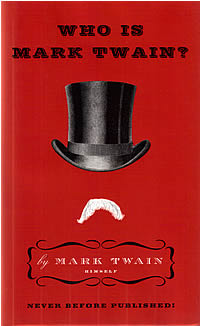 WHO IS MARK TWAIN? available from amazon.com
contains the full text of "The Privilege of the Grave"

Quotations | Newspaper Articles | Special Features | Links | Search