Directory of Mark Twain's maxims, quotations, and various opinions:

A B C D E F G H I J K L M N O P Q R S T U V W X Y Z

---
IMAGINATION

Composite graphic courtesy of
Dave Thomson

You can't depend on your judgment when your imagination is out of focus.
- Mark Twain's Notebook (Harper and Brothers, 1935), p. 344.

When I'm, playful I use the meridians of longitude and parallels of latitude for a seine, and drag the Atlantic Ocean for whales. I scratch my head with the lightning and purr myself to sleep with the thunder.
- Life on the Mississippi

Against a diseased imagination demonstration goes for nothing.
- "The Private History of a Campaign that Failed"

It is a blessed thing to have an imagination that can always make you satisfied, no matter how you are fixed.
- The American Claimant
The human imagination is much more capable than it gets credit for. This is why Niagara is always a disappointment when one sees it for the first time. One's imagination has long ago built a Niagara to which this one is a poor dribbling thing. The ocean "with its waves running mountain high" is always a disappointment at first sight; the imagination has constructed real mountains, whereas these when swelling at their very biggest and highest are not imposing. The Taj is a disappointment though people are ashamed to confess it. God will be a disappointment to most of us, at first. I wish I could see the Niagaras and Tajs which the human imagination has constructed, why then, bless you, I should see Atlantics pouring down out of the sky over cloud ranges, and I should see Tajs of a form so gracious and a spiritual expression so divine and altogether so sublime and so lovely and worshipful that--well--St. Peter's, Vesuvius, Heaven, Hell, everything that is much described is bound to be a disappointment at first experience.
- Mark Twain's Notebook
You can find in a text whatever you bring, if you will stand between it and the mirror of your imagination. You may not see your ears, but they will be there.
- "A Fable"
Now, isn't imagination a precious thing? It peoples the earth with all manner of wonders, strange beasts and birds, angels, cherubim and seraphim. And it has to be exercised. No child should be permitted to grow up without exercise for imagination. It enriches life for him. It makes things wonderful and beautiful.
- speech in Elmira, April 1907 (reprinted in Mark Twain in Elmira by Jerome & Wisbey)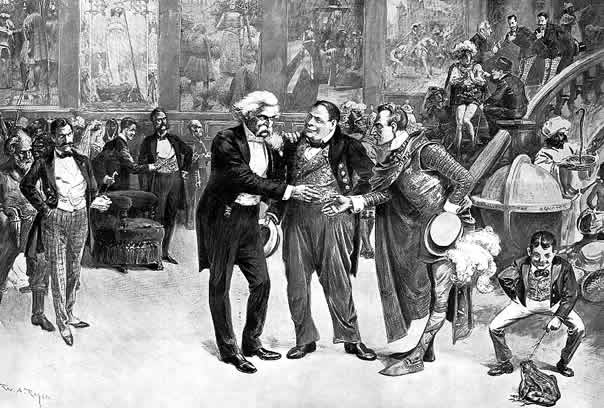 "A Surprise Party to Mark Twain by His Characters"
From 1915 advertisement for Author's National Edition of Mark Twain's Works.
From the Dave Thomson collection.


Quotations | Newspaper Articles | Special Features | Links | Search