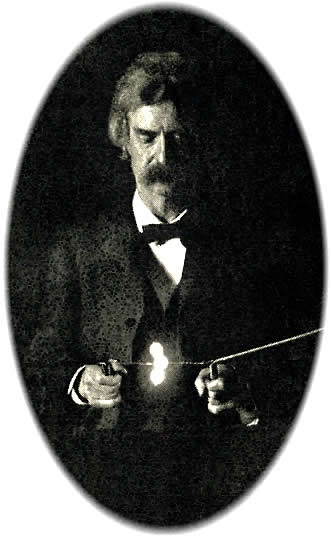 Twain in the lab of Nikola Tesla,
spring of 1894. Published in article by
T.C. Martin titled
"Tesla's Oscillator and Other Inventions,"
CENTURY MAGAZINE, April 1895.
From the Dave Thomson collection.
Name the greatest of all inventors. Accidents
- Mark Twain's Notebook

A man invents a thing which could revolutionize the arts, produce mountains of money, and bless the earth, and who will bother with it or show any interest in it?--and so you are just as poor as you were before. But you invent some worthless thing to amuse yourself with, and would throw it away if let alone, and all of a sudden the whole world makes a snatch for it and out crops a fortune.
- The American Claimant

[Inventors] are the creators of the world--after God.
- quoted in Mark Twain, the Man and His Work, Wagenknecht
I have, as you say, been interested in patents and patentees. If your books tell how to exterminate inventors send me nine editions. Send them by express.
- Mark Twain, a Biography
It takes a thousand men to invent a telegraph, or a steam engine, or a phonograph, or a photograph, or a telephone, or any other Important thing--and the last man gets the credit and we forget the others. He added his little mite--that is all he did.
- letter to Anne Macy. Reprinted in Anne Sullivan Macy, The Story Behind Helen Keller (Garden City, N.Y.: Doubleday, Doran, and Co., 1933), p.162.