Directory of Mark Twain's maxims, quotations, and various opinions:

A B C D E F G H I J K L M N O P Q R S T U V W X Y Z

---
JEFFERSON BARRACKS
In that summer - of 1861 - the first wash of the wave of war broke upon the shores of Missouri. Our state was invaded by the Union forces. They took possession of St. Louis, Jefferson Barracks, and some other points. The Governor, Claib Jackson, issued his proclamation calling out fifty thousand militia to repel the invader.
- "The Private History of a Campaign that Failed"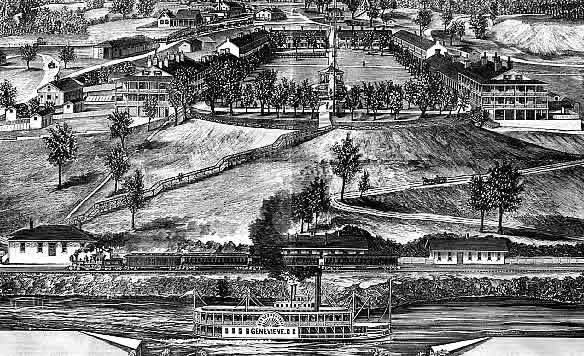 Detail of 1883 steel engraving of Jefferson Barracks,
the historic early U.S. Army Fort located in St. Louis, MO. from J. Thomas Scharf's
1883 HISTORY OF SAINT LOUIS CITY AND COUNTY.
From the Dave Thomson collection.
More about Jefferson Barracks on the Licensed Pilot page.



Quotations | Newspaper Articles | Special Features | Links | Search