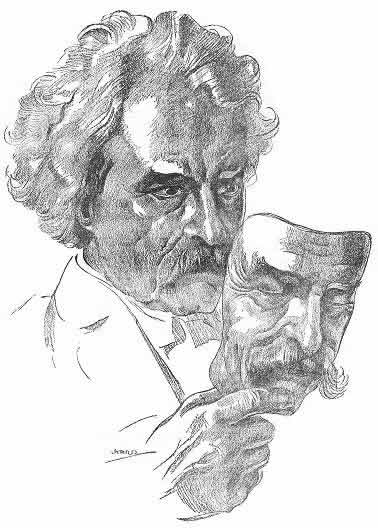 Illustration from American Examiner magazine published shortly after Clemens' death in 1910 captioned
"Behind the mask of the humorist was
the face of the philospher."
Illustration from the Dave Thomson collection.


Different results of the one Master Impulse: the necessity of securing one's self-approval. They wear diverse clothes and are subject to diverse moods, but in whatsoever ways they masquerade they are the same person all the time. To change the figure, the compulsion that moves a man--and there is but the one--is the necessity of securing the contentment of his own spirit. When it stops, the man is dead.
- What Is Man?


Everyone is a moon, and has a dark side which he never shows to anybody.
- Following the Equator, Pudd'nhead Wilson's New Calendar

...there is a good side and a bad side to most people, and in accordance with your own character and disposition you will bring out one of them and the other will remain a sealed book to you.
- unpublished Autobiographical Dictation, reprinted in Notebooks & Journals, Vol. 3.