Directory of Mark Twain's maxims, quotations, and various opinions:

A B C D E F G H I J K L M N O P Q R S T U V W X Y Z

---
PREFACES / UNIFORM EDITIONS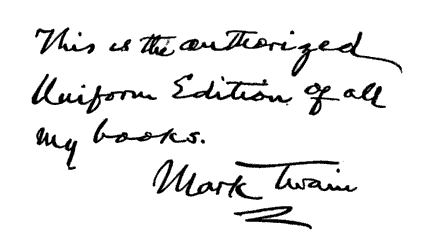 Printed facsimile of Mark Twain's signature which appeared in early uniform editions of his works.
So far as I remember, I have never seen an Author's Preface which had any purpose but one -- to furnish reasons for the publication of the book. Prefaces wear many disguises, call themselves by various names, and pretend to come on various businesses, but I think that upon examination we are quite sure to find that their errand is always the same: they are there to apologize for the book; in other words, furnish reasons for its publication. This often insures brevity.
Upon these terms, if there is nothing to explain or nothing worth the explanation, there is no occasion for a Preface; there is nothing for it to do -- except to explain its own presence, apologize for its intrusion. That is what this present Preface does.
When the books in this collection appeared in print originally, most of them had Prefaces which furnished reasons for publication. Those Introductions will be found in their places, and need not be repeated here. The jurisdiction of the present Preface is restricted to furnishing reasons for the publication of the Collection as a whole. This is not easy to do. Aside from the ordinary commercial reasons I find none that I can offer with dignity. I cannot say without immodesty that the books have merit; I cannot say without immodesty that the public want a Uniform Edition; I cannot say without immodesty that a Uniform Edition will turn the nation toward high ideals and elevated thought; I cannot say without immodesty that a Uniform Edition will eradicate crime. Though I think it will. I find no reason which I can offer without immodesty except the rather poor one that I should like to see a Uniform Edition myself. It is nothing; a cat could say it about her kittens. Still, I believe I will stand upon that. I have to have a Preface and a reason, by law of custom, and the reason which I am putting forward is at least without offense.
- "Preface" to Mark Twain's works published by American Publishing Company. Written from Vienna, January 1899

Quotations | Newspaper Articles | Special Features | Links | Search