Directory of Mark Twain's maxims, quotations, and various opinions:

A B C D E F G H I J K L M N O P Q R S T U V W X Y Z

---


PROOFREADERS
The following three quotations were used by the editors of the University of California Press for the dust jacket of Adventures of Huckleberry Finn, (1988) to illustrate Twain's repeated denunciations of proofreaders.
_____
Yesterday Mr. Hall wrote that the printer's proof-reader was improving my punctuation for me, & I telegraphed orders to have him shot without giving him time to pray.
- 1889
In the first place God made idiots. This was for practice. Then he made proof-readers.
- 1893
Will you make an order in writing & attach it to my MS., & sign it & back it with your whole authority, requiring the compositor & proof-reader to follow my copy EXACTLY, in every minute detail of punctuation, grammer, construction, and (in the case of proper names, spelling). . . I am thus urgent because I know that the Century proof-reader is insane on the subject of his duties, & it makes me afraid of all the guild.
- 1894
_____
And then there is that other thing: when you think you are reading proof, whereas you are merely reading your own mind; your statement of the thing is full of holes & vacancies but you don't know it, because you are filling them from your mind as you go along. Sometimes -- but not often enough -- the printer's proof-reader saves you -- & offends you -- with this cold sign in the margin: (?) & you search the passage & find that the insulter is right -- it doesn't say what you thought it did: the gas-fixtures are there, but you didn't light the jets.
- Letter to Sir Walter Bessant, 22 February 1898
A ranting letter against proofreaders. From Clemens to his publisher Chatto & Windus dated July 25, 1897. Published in The Letters of Western Authors Series. (Book Club of California, 1935.)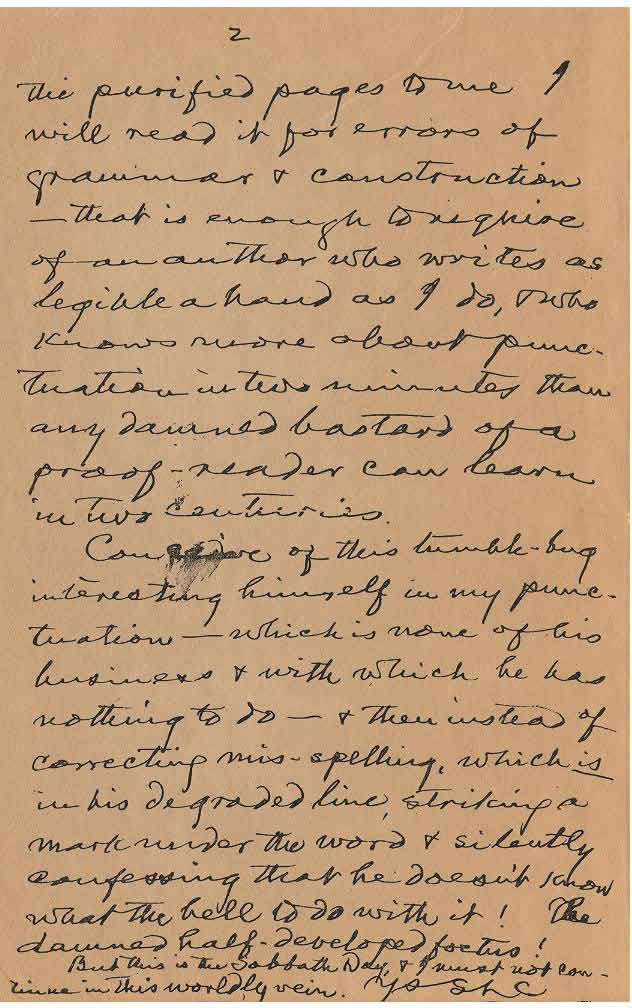 Photo courtesy of Dave Thomson.

Quotations | Newspaper Articles | Special Features | Links | Search