Directory of Mark Twain's maxims, quotations, and various opinions:

A B C D E F G H I J K L M N O P Q R S T U V W X Y Z

---
PUBLISHER
All publishers are Columbuses. The successful author is their America. The reflection that they--like Columbus--didn't discover what they expected to discover, and didn't discover what they started out to discover, doesn't trouble them. All they remember is that they discovered America; they forget that they started out to discover some patch or corner of India.
- Autobiography of Mark Twain

Robbery of a publisher -- I said that if he regarded that as a crime it was because his education was limited. I said it was not a crime and was always rewarded in heaven with two halos. Would be, if it ever happened.
- Mark Twain in Eruption


Clemens with
George & Dorothy Harvey.
Harvey was president of
Harper & Bros. 1900-1915.
If ever a publisher gets a non-terminable contract with an author, that author can never buy his freedom from that slavery on any terms. A publisher is by nature so low and vile that he -- that he -- well from the bottom of my heart I wish all publishers were in hell.
- Notebook, 28 September 1903 (quoted in Mark Twain's Correspondence with Henry Huttleston Rogers, p. 534)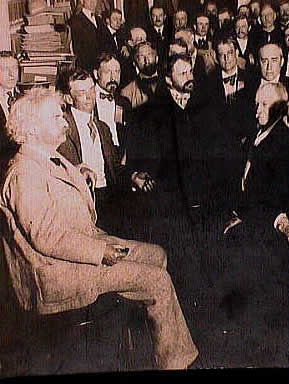 Clemens at Harper and Brothers gathering, June 16, 1902.

Quotations | Newspaper Articles | Special Features | Links | Search