Directory of Mark Twain's maxims, quotations, and various opinions:

A B C D E F G H I J K L M N O P Q R S T U V W X Y Z

---

RUSSIA
The French are polite, but it is often mere ceremonious politeness. A Russian imbues his polite things with a heartiness, both of phrase and expression, that compels belief in their sincerity.
- The Innocents Abroad

I wish Europe would let Russia annihilate Turkey a little -- not much, but enough to make it difficult to find the place again without a divining-rod or a diving-bell.
- The Innocents Abroad


1960 Russian commemorative stamp depicting
birthplace in Florida, MO and
Tom and Huck statue in Hannibal, MO.
Original size measures 1.20 x 1.65 inches.
From the Dave Thomson collection.
I wish somebody would assassinate the Russian Family. So does every sane person in the world -- but who has the grit to say so? Nobody.
- Letter to Joseph Twichell, 1 and 2 June 1905
Government by falsified promises, by lies, by treachery, and by the butcher-knife, for the aggrandizement of a single family of drones and its idle and vicious kin has been borne quite long enough in Russia, I should think. And it is to be hoped that the roused nation, now rising in its strength, will presently put an end to it and set up the republic in its place. Some of us, even the white-headed, may live to see the blessed day when tsars and grand dukes will be as scarce there as I trust they are in heaven.
- letter to Nicholas Tchaykowsky (alternately spelled Tchaykoffsky), 1906 reprinted in Mark Twain, a Biography also in Washington Post, 30 March 1906

Of course I know that the properest way to demolish the Russian throne would be by revolution. But it is not possible to get up a revolution there; so the only thing left to do, apparently, is to keep the throne vacant by dynamite until a day when candidates shall decline with thanks.
- Letter to the editor of Free Russia, 1890
And look at Russia. It spreads all around and everywhere, and yet ain't no more important in this world than Rhode Island is, and hasn't got half as much in it that's worth saving.
- Tom Sawyer Abroad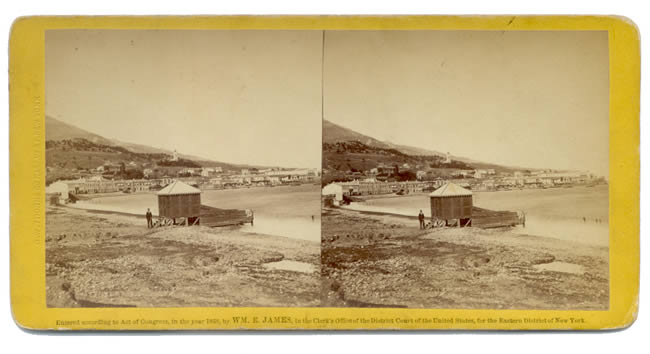 Yalta, Russia. Stereocard by photographer William E. James from Mark Twain's Quaker City excursion, 1868.
From Barbara Schmidt collection.

Quotations | Newspaper Articles | Special Features | Links | Search