A History of and Guide to
UNIFORM EDITIONS OF MARK TWAIN'S WORKS
_____
Its holiday quarto form is an attractive bit of bookmaking.
- The Independent, December 11, 1916

Chapter 33
Harper and Brothers
Pictorial Hardcover or Gift Editions (1916 - 1935)
History and Description of the Gift Editions
Often called the "Gift Editions" of Mark Twain's works, these volumes were designed to appeal to shoppers during the Christmas buying season. In 1916 Harper and Brothers issued The Mysterious Stranger: A Romance in a black cloth binding featuring gilt stamping and a colored illustration mounted on the cover. It was the first Mark Twain work issued in this type of binding. Few of Mark Twain's works were issued in this format and the books were never sold as a uniform set. However, they are important to the studies of the history of the uniform editions of Mark Twain's works because the artwork featured in some of the volumes, by American artists, would later become the selling point for an entirely new uniform edition of Mark Twain's works called the American Artists Edition.
The Volumes and the Artists
_____
The Mysterious Stranger: A Romance (1916)
with Illustrations by Newell Convers Wyeth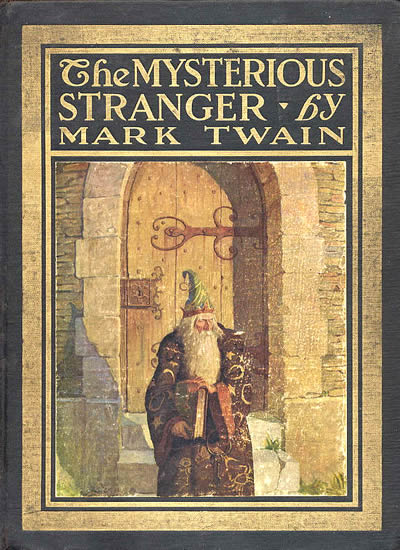 The Mysterious Stranger: A Romance issued in 1916
The 1916 edition of The Mysterious Stranger: A Romance is a fraudulent version of several of Mark Twain's unfinished manuscripts pieced together and rewritten by Albert Bigelow Paine and Harper executive Frederick Duneka. It was serialized in Harper's Magazine over a seven month period from May through November 1916. Harper and Brothers published the story as an illustrated book in October that same year in time for the Christmas buying season. The book features a printing code of K-Q (October 1916). It was issued in a glassine dust jacket with the title and author printed on the spine.
Nearly fifty years later, Mark Twain scholar John S. Tuckey published his research and revealed the full extent of the fraud. Paine and Duneka deleted about 35 percent of the original text, rewrote many passages, and added to the story the character of the astrologer -- a character never in any of Mark Twain's versions of the story. While no motive behind the fraud was ever established, financial gain for Harper and Brothers likely figured into the publishing scheme.
From May to November 1916 Harper's Magazine installments of "The Mysterious Stranger" featured a full-page color illustration by Newell Convers Wyeth. At the time Wyeth was considered one of the best and most sought after illustrators in America. Born in Needham, Massachusetts in 1882, Wyeth had studied art and illustration under Howard Pyle in Delaware.

At age twenty, Wyeth skyrocketed to national attention with a cover illustration for Saturday Evening Post in 1903. In 1911 Wyeth entered into an agreement with Scribner's publishing house to illustrate an edition of Robert Louis Stevenson's Treasure Island and the outstanding success of those illustrations firmly established Wyeth as the foremost book illustrator of his day. Wyeth collaborated with Scribner's for over fifty additional books over the next three decades.


Newell Convers Wyeth (b. 1882 - d. 1945)
Wyeth's seven illustrations for The Mysterious Stranger are:
Eseldorf Was a Paradise for Us Boys (frontispiece)
The Lightening Blazed Out Flash Upon Flash and Set the Castle on Fire
On the Fourth Day Comes the Astrologer From His Crumbling Old Tower (also used as the pictorial cover)
Marget Was Cheerful By Help of Wilhelm Meidling
There Was a Sound of Tramping Outside and the Crowd Came Solemnly In
"Life Itself Is Only a Vision, a Dream"
[The Mysterious Stranger: A Romance (1916) is available online at google books.]
_____
The Prince and the Pauper (1917)
with Illustrations by Franklin Booth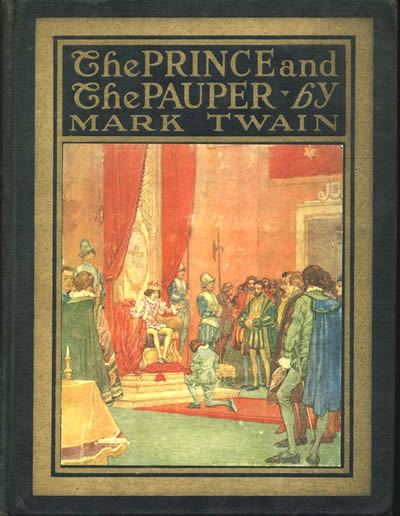 The Prince and the Pauper with illustrations by Franklin Booth
was first issued as a pictorial hardcover in 1917.
One year after issuing The Mysterious Stranger: A Romance in a pictorial hardcover format, Harper and Brothers issued The Prince and the Pauper in an identical format with illustrations by book and magazine illustrator Franklin Booth (b. 1874 - d. 1948). The edition was copyrighted October 29, 1917. This edition is an octavo volume with top edges gilt and sides and bottom rough-trimmed. It features gilt stamping over a black cloth binding and a colored illustration mounted on the front. The 1917 edition features no date on the title page but does feature the printing code K-R (October 1917). It was issued in a tan printed dust jacket. The volume is uniform with The Mysterious Stranger (1916) and was priced at $2.50. Booth provided seven full-page colored illustrations for this holiday edition.
Franklin Booth was born in Indiana in 1874, the son of a farmer. In his early years, Booth was largely a self-taught artist who developed a unique technique of using fine lines to represent textures and tones. At age twenty-six he left his family's Indiana farm to attend art school at the Art Institute of Chicago and later spent a few months at Art Student's League in New York. After two years in New York he returned to Indiana and worked for the Indianapolis Star and News. With the help of artist Homer Davenport, Booth obtained employment with publisher Frank Munsey's newspapers in Boston, New York and Washington and saved enough money to study abroad. After his return from Europe, Booth's work was in demand from magazines such as McClure's, Harper's and Scribner's, Century and Collier's Weekly. Franklin Booth died in New York in 1948. A photo of him as well as his gravesite in Clarksville, Hamilton County, Indiana is online at findagrave.com.
Booth's seven illustrations for the 1917 edition of The Prince and the Pauper are:
Tom Canty Knelt Before the King - (cover and frontispiece)
The Two Went and Stood Side by Side Before a Great Mirror, and Lo, a Miracle!
He Turned, Doffed His Plumed Cap, Bent His Body in Low Reverence, and Began to Step Backward
"I Think Thou Callest Thyself Miles Hendon, If I Heard Thee Aright?"
The Ruffler Put "Jack" in Hugo's Charge
"There Is the Village, My Prince, and There Is the Hall Close By!"
She Embraced His Leg, She Covered It with Kisses, She Cried, "O, My Child, My Darling!"
_____
Saint Joan of Arc (1919)
with Illustrations by Howard Pyle and Wilfred John Jones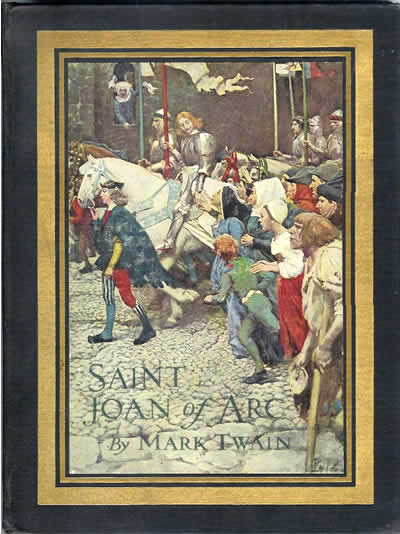 Saint Joan of Arc issued in 1919
The Christmas issue of Harper's Magazine, December 1904, featured Mark Twain's essay "Saint Joan of Arc" with four full-page color illustrations by Howard Pyle. Harper and Brothers resurrected the essay in time for the Christmas buying season of 1919, copyrighted the new edition in September 1919 and bound it up into a 32-page pictorial hardcover which included Pyle's full-page color illustrations. The book has no date on the title page but features a D-T code (April 1919). The book is printed on pages with tinted illustrations by Wilfred John Jones. In first printing page 18 has a marginal decoration right-side up; in the second printing it is upside-down. Two versions of the dust jacket exist -- one with the price on the spine; the other without a price. The original price for the slim volume was $1.50. The Bookseller magazine of December 15, 1919 described it as "a wonderfully beautiful gift book."

Howard Pyle (b. 1853 - d. 1911)

Illustrator Howard Pyle was a native of Wilmington, Delaware. After studying art briefly in Philadelphia, Pyle relocated to New York By the late 1870s his work was being featured in leading New York periodicals including Harper's publications. In the 1880s Pyle moved back to Philadelphia where he published and illustrated his own The Merry Adventures of Robin Hood. It was one of a number of books Pyle would write and illustrate and was a favorite of Clemens who owned or gave away at least three copies. Clemens's friend George Washington Cable wrote of seeing the family read aloud from "Howard Pyle's beautiful new version of Robin Hood. Mark enjoys it hugely" (Gribben, p. 563).

Pyle would eventually produce over three thousand illustrations for magazines and books in his lifetime, specializing in images of fairy tales and legends including those of King Arthur's court.
Pyle's four full-page colored illustrations for Saint Joan of Arc are:
She Believed That She Had Daily Speech with Angels - (frontispiece)
The Triumphal Entry into Rheims - (also featured on the cover)
Guarded by Rough English Soldiers
A Lithe, Young, Slender Figure
Wilfred John Jones (b. 1888 - d. 1968) who provided the illustrations in the wide margins for the pages of Saint Joan of Arc was a designer and illustrator for some of the leading publishers of the era. Born in Philadelphia in 1888 he was the third of ten children. His father was a bricklayer and his mother a former school teacher. Jones developed an interest in art at an early age and the principals of applying geometry to his art. Jones died in New York in August 1968.
[Saint Joan of Arc (1919) is available online at google books.]
_____
The Adventures of Tom Sawyer (1920)
with Illustrations by Worth Brehm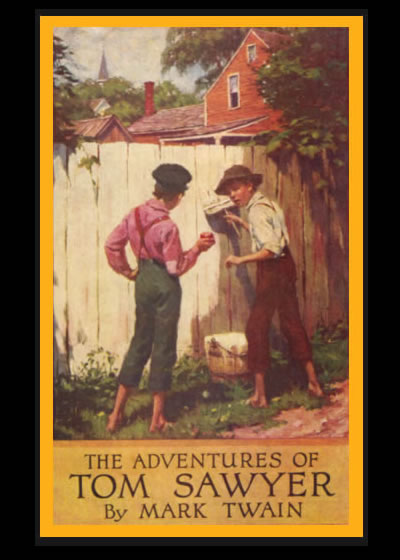 The Adventures of Tom Sawyer illustrated by James Ellsworth "Worth" Brehm
was issued as a pictorial hardcover in 1920, ten years after its first appearance in other binding.
| | |
| --- | --- |
| Worth Brehm's illustrated edition of The Adventures of Tom Sawyer was copyrighted October 13, 1910 and issued as a holiday book that year in red cloth binding. The 1910 edition is an octavo volume with embossed design, gilt stamping, deckled pages with top edges gilt. It originally sold in a box for $2.00. | |
Harper's printing codes and copyright dates can be confusing for book collectors. Many of the black cloth pictorial editions of this book on the used book market today are from the 1930s and are misidentified as 1910 editions. The most accurate means of tracking the history of Worth Brehm's illustrated edition of Tom Sawyer is by studying the advertising that accompanied the release of the various versions of the book.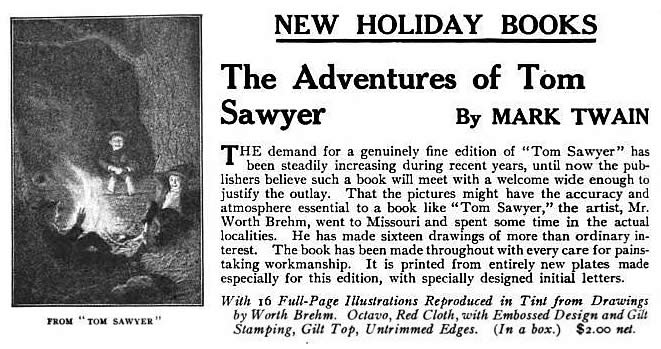 Harper and Brothers ad from Scribner's Magazine, December 1910 describing Brehm's red cloth edition.


Announcement in A. L. A. Booklist, Volume 7, No. 3
November 1910, p. 173.

In September 1920 Harper and Brothers announced they were reissuing Worth Brehm's illustrated edition of The Adventures of Tom Sawyer in a pictorial hardcover format for the holiday season of 1920. The 1920 edition was issued with a colored illustration glued onto the cloth cover, a decorated two-color title page, a dust jacket and sold for $2.50.

Ad from Harper's Magazine, November 1920

Ad from

The Bookseller, Newsdealer and Stationer

, Volume 53,

September 15, 1920
Illustrator James Ellsworth "Worth" Brehm (b. 1883 - d. 1928) was a native of Hamilton County, Indiana. He graduated from Noblesville High School in 1902 and attended Indiana University, DePauw University, and the Herron Institute art school in Indianapolis. He and his older brother George, also an artist, worked for short time at the Indianapolis Star. Around 1905 the two Brehm brothers moved to New York where Worth attended the Art Students League. By 1907 Worth Brehm's work was appearing in national magazines. A June 1908 issue of School Arts magazine lists Worth Brehm, his brother George and another Indiana born artist Franklin Booth as instructors in the National School of Art in New York City for the Fall 1908 semester.

Throughout his career Worth Brehm worked with American Magazine, Cosmopolitan, McClure's, Woman's Home Companion, Scribner's, Harper's Monthly Magazine, Century, Collier's and Good Housekeeping specializing in drawing pictures of young boys. In 1916 he illustrated Booth Tarkington's Penrod and Sam. Brehm died at age 44 in 1928 at Norwolk, Connecticut where he had been a resident of Silvermine, an artists' colony, for fifteen years.


Worth Brehm photo from the Noblesville High School Junior Class Annual 1901 courtesy of the Hamilton East Public Library, Noblesville, Indiana.
Brehm's original 16 illustrations for the Harper and Brothers holiday edition of The Adventures of Tom Sawyer are:

"Does a Boy Get a Chance to Whitewash a Fence Every Day" - colored cover and frontispiece

Tom and the New Boy

He Began to Show Off

"Let Me See It"

Robin Hood and Guy of Guisborne

"Now You've Asked for It, and I'll Give it to You"

The Pirates

Tom Painfully wrote with his "Red Keel"

"I've Lost my knife. I reckon I better go find it."

The Two heroes begin to tell their adventures to hungry listeners

A ghastly stage fright seized him

The strain upon pent emotion reached its climax

"Pard, there's thousands of dollars here," said Injun Joe

"My boy, don't be afraid of me!"

"Tom, Tom, we're lost? We're lost!

"My Goodness, Huck, lookyhere!" Exclaimed Tom

Harper and Brothers continued to reprint and publish Brehm's edition in a black cloth binding with the pictorial cover until at least 1946. Later printings of the volume reduced the dimensions of the book. Some of the later editions feature only nine of the original sixteen illustrations.
_____
The Adventures of Huckleberry Finn (1923)
with Illustrations by Worth Brehm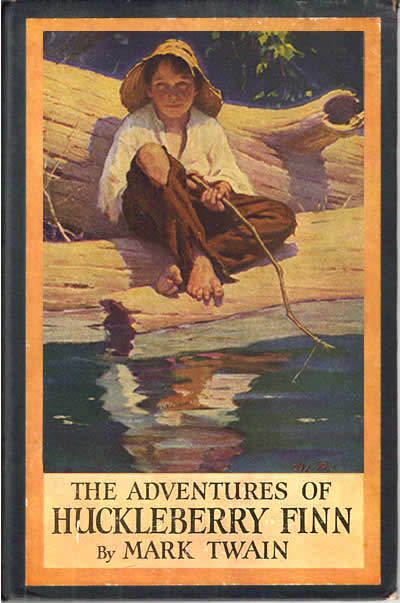 Adventures of Huckleberry Finn illustrated by Worth Brehm
was first issued as a pictorial hardcover in 1923
Thirteen years after first illustrating The Adventures of Tom Sawyer (1910) and three years after Harper had released the book again in the pictorial hardcover format in 1920 as a gift edition, Worth Brehm's illustrated edition of Adventures of Huckleberry Finn was released. The volume was copyrighted on November 20, 1923. Brehm's edition featured a colored frontispiece which was also used as the cover illustration and twelve additional black and white illustrations. Brehm's thirteen full-page illustrations are titled:
Huck Finn (color cover and frontispiece)

Then she told me about the bad place, and I said I wished I was there

He put his head in again, and cussed me for ---

He drops down on his knees and puts his hands together

This one kept pointing the pistol at the man's head on the floor, and saying: "I'd like to! And I orter, too-a mean skunk!"

I heard Buck's gun go off at my ear and Harney's hat tumbled off

The king and duke in flight

He howled and spread around and swelled up his chest and just knocked the spots out of any acting ever I see

King and duke find the money

I was kind of a hub of a wheel-spokes made out of dogs

His wool was all tied up with thread. That was to keep the witches off. He said the witches was pestering him awful

Aunt Sally and the rats

So I done it, but not feeling brash
In the following years, Brehm's two books would be sold individually as well as in a boxed set.
_____
The Prince and the Pauper (1924)
with Illustrations by William Hatherell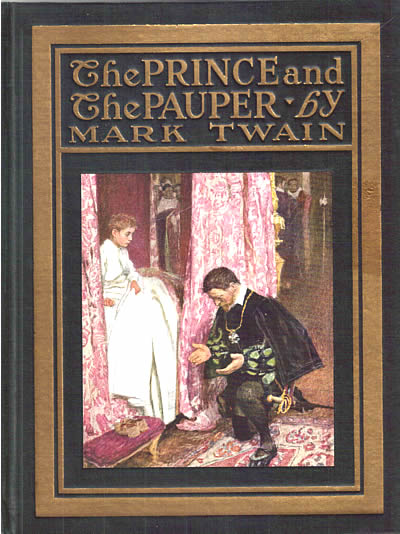 Harper and Brothers 1924 edition of The Prince and the Pauper illustrated by William Hatherell
Reading between the lines, a brief news item in the Dallas Morning News on July 15, 1923 hints that someone affiliated with Harper and Brothers may not have been satisfied with the illustrations provided by Franklin Booth for Harper's 1917 holiday edition of The Prince and the Pauper. Under the subheading of "Unique Alibi":
For two years Harper & Bros. have been planning to publish an elaborately illustrated edition of Mark Twain's "Prince and the Pauper." William Hatherell, one of the most famous illustrators in England, has been at work on the illustrations, and has held up the edition while finishing them. Several weeks ago Harpers wrote to their London agent, requesting him to hurry the artist's progress. The agent wrote back that Mr. Hatherell can do no work on the illustrations until he finds another satisfactory model because, during the two years, the original model, who posed as the little Prince and Pauper, had grown up! ("Interesting News Concerning Authors of Current and Forthcoming Publications," Dallas Morning News, 15 July, 1923, p. 7.)
William Hatherell (b. 1855 - d. 1928) was a prominent British illustrator who earned a reputation as a man who could not be rushed to meet a deadline. Hatherell's illustrations had accompanied works by Thomas Hardy, James M. Barrie, and Shakespeare. In the United States, his work had appeared in magazines such as Harper's Monthly, McClure's, and Scribner's. Why Harper and Brothers decided to discontinue publication of The Prince and the Pauper with Franklin Booth's illustrations is unknown. One possibility is that since Mark Twain's story was set in Britain, perhaps they felt a British artist's work would appeal to a wider audience for a new holiday edition.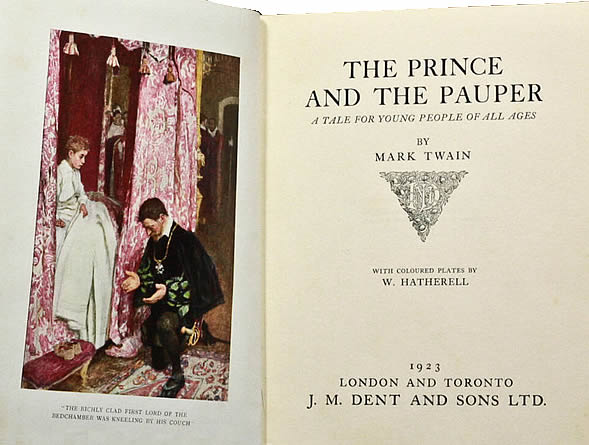 Title page and frontispiece of J. M. Dent and Sons edition of The Prince and the Pauper
A few months after the news reports of Hatherell's delay in illustrating the book, the London magazine The Bookman, in the Christmas 1923 issue, announced the new edition of The Prince and the Pauper with eight of Hatherell's illustrations published by the firm of J. M. Dent. Dent's edition was not in Harper's pictorial format. It was bound in red cloth with a crown stamped in gilt on the front cover and gilt lettering on the spine. The tops of the pages pages are a dark green. Dent's version was issued with a dust jacket featuring one of Hatherell's illustrations on the cover. The dimensions of the Dent edition measure approximately 11" x 13" making it larger than Harper's gift editions that were issued in America. Why Harper and Brothers arranged the release of Hatherell's The Prince and the Pauper through the publishing house of J. M. Dent in 1923 in England, a full year prior to the release of it in America, is open to speculation. However, one possibility may have been that they did not want to compete with their own 1923 holiday edition of Adventures of Huckleberry Finn.
The Harper edition of Hatherell's The Prince and The Pauper was released in pictorial hardcover format in the United State in 1924. The earliest printing code found for the Harper edition is October 1924. It features the same style of binding as the 1916 edition of The Mysterious Stranger and the 1917 edition of The Prince and Pauper illustrated by Franklin Booth. The ad printed on the back of the dust jacket indicates that by 1924 Harper was referring to this series of books as "Gift Books for Young Folks" and was including works by other authors in the series as well, including Toby Tyler by James Otis.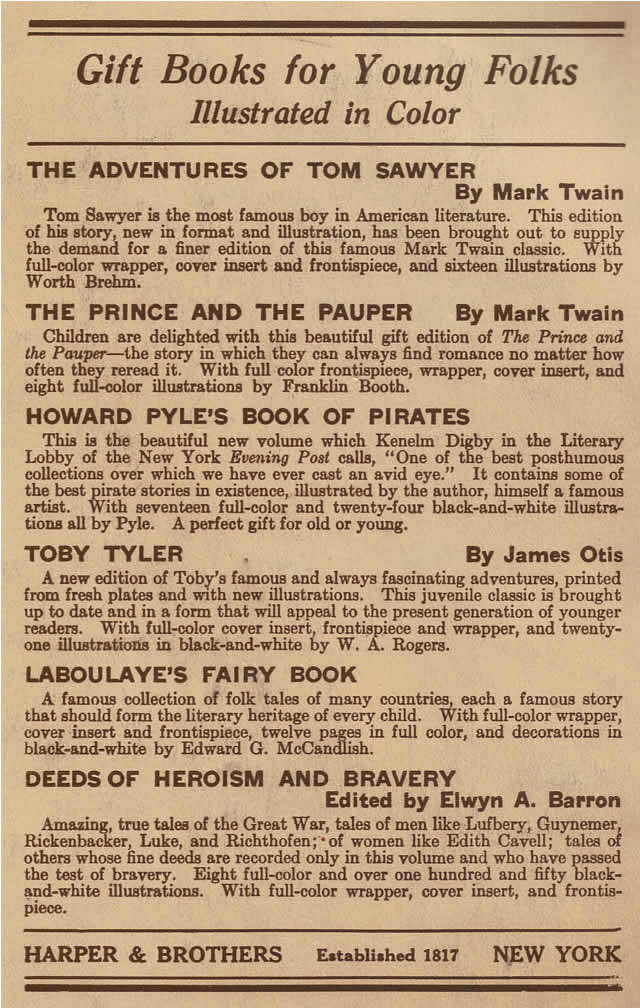 Dust jacket ad from The Prince and the Pauper with illustrations by William Hatherell continues to advertise Franklin Booth's edition of the same work.
In what was likely a publishing oversight, the dust jacket ad on the back of Hatherell's illustrated edition of The Prince and the Pauper continued to feature a blurb for Franklin Booth's illustrated edition of the same book. No copies of Booth's version of the work have been found subsequent to the release of Hatherell's edition. Harper and Brothers continued to issue an edition of the book with Hatherell's illustrations until at least 1979, long after they had merged to become Harper and Row. Later editions in the pictorial hardcover format feature a different illustration on the cover and the binding uniform is with the 1920s editions of The Adventures of Tom Sawyer and Adventures of Huckleberry Finn.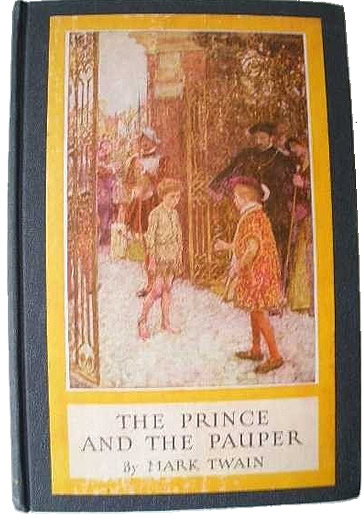 Edition with printing code from July 1936 features a pictorial hardcover with a different illustration by Hatherell on the cover.
William Hatherell's eight full-page color illustrations for the 1924 holiday edition of Harper's The Prince and the Pauper are:
William Hatherell's 1924 edition featured two scenes from the story that Franklin Booth had also illustrated in the 1917 edition.
| | |
| --- | --- |
| Hatherell's illustration from 1924 edition | Booth's illustration from 1917 edition |
| | |
| --- | --- |
| Hatherell's illustration from 1924 edition | Booth's illustration from 1917 edition |
The two illustrated editions of The Prince and the Pauper -- one by Booth and one by Hatherell are publishing curiosities and the full story behind the decision to discontinue the Booth version remains unknown.
_____
A Connecticut Yankee in King Arthur's Court (1925)
with Cover and Illustrations by Henry Clarence Pitz
Also with Cover by Eugene M. Frandzen and Illustrations by Henry Clarence Pitz
| | |
| --- | --- |
| Cover illustration by Henry C. Pitz | Cover illustration by Eugene M. Frandzen dated 1924 |
A Connecticut Yankee in King Arthur's Court was released in pictorial hardcover format for the 1925 Christmas buying season. One of the earliest ads for the volume is found in the Chicago Tribune of November 11, 1925 where the book was advertised for $2.50. Book sellers, scholars and collectors have often confused the 1917 copyright date for the work as the publication date. Two sets of printing plate codes have been found in these volumes -- some are dated July 1915 and others dated August 1925. Two different cover illustrations were used -- one signed by Henry Clarence Pitz and another signed by Eugene M. Frandzen which Frandzen dated 1924. No historical evidence has been found to explain the usage of two separate covers or the different printing codes. One possible explanation is that Harper and Brothers utilized two sets of plates for the production process. Pitz's illustrations in both versions are identical and are in black and white with the exception of the cover illustration. Harper continued to issue the volume with Frandzen's cover and Pitz's illustrations throughout the 1960s following their merger as Harper and Row publishers.
The new illustrations by Henry Clarence Pitz for Harper's holiday edition represented a departure from the cutting and satirical illustrations by Dan Beard that had accompanied the first edition of A Connecticut Yankee. While Beard's work was filled with visual social and political commentary, Pitz's work has been criticized by historians as romanticizing the story and making it more suitable for young readers. Instead of a middle aged Connecticut Yankee, Mark Twain's main character looks more like a very young man just entering adulthood in Pitz's illustrations.
Henry Clarence Pitz was born in Philadelphia on June 16, 1895, the son of a bookbinder. He attended Central Manual School and West Philadelphia High School. From 1914 to 1918 he attended Philadelphia Museum College of Art as well as the Spring Garden Institute in Philadelphia in 1917 and 1920. Pitz served in the Army Medical Corps in World War I. After the war he returned to Philadelphia and began receiving art commissions for his work. In 1929 he published his own reference book Early American Costume. He subsequently became an editor with American Artist magazine. Pitz held various academic positions throughout his career including the head of the Department of Pictorial Expression at the Philadelphia Museum College of Art. In May 1969 Pitz served as the official artist for documenting NASA's Apollo 10 moon launch and in 1972 was the official artist for the Environmental Protection Agency. Pitz was a prolific book and magazine with more more than 160 books to his credit. He died at his home in Chestnut Hill, Philadelphia, on November 26, 1976.
Eugene Mabus Franzden, the cover illustrator for one version of Harper's holiday edition of A Connecticut Yankee, was born in San Diego, California on April 13, 1893. His father had relocated the family from Texas to California where he ran a printing business. Franzden later attended the Art Institute of Chicago and graduated from there on June 15, 1917. After graduation he taught art at the school's juvenile extension class in Longwood, Illinois. After serving a brief stint in France in World War I, he returned to Chicago and opened his own commercial art studio. In 1921 he relocated to New York and his work began appearing in New York newspapers and magazines. For ten years from 1929 to 1939 Franzden's work regularly appeared in a variety of aviation pulp magazines. In 1937 he returned to California and lived there until his death on July 5, 1972.
The one color frontispiece and cover and the twelve full page black and white illustrations for the 1925 gift edition of A Connecticut Yankee in King Arthur's Court are:
"Bridgeport?" said I, pointing. "Camelot," said he - color cover and frontispiece (one version by Pitz, one version by Franzden)
I saw he meant business, so I was up the tree when he arrived
Then he began to mutter and make passes in the air with his hands. He worked himself up slowly and gradually into a sort of frenzy
I drank and then stood up, and she poured the rest down inside the armor
When the first blast of smoke shot out from the bars of my helmet, all those people broke for the woods
"God's wounds, dost thou covet destruction, thou maniac? It is the boss?"
Then we stopped for a long nooning under some trees by a limpid brook. Right so came by and by a knight riding
"How is trade?" I asked
I was hungry enough for literature to want to take down the whole paper at this one meal, but I got only a few bites, and then had to postpone, because the monks around me besieged me so with eager questions
The king knocked. We waited. No answer
And so we went gadding along, dropping in here and there, pricing things, and gossiping with the shopkeepers about the riot
We struck a stream and darted into it
I snatched a dragoon revolver out of my holster; there was a flash and a roar
_____
Personal Recollections of Joan of Arc (1926)
with Illustrations by George Berthon Cutts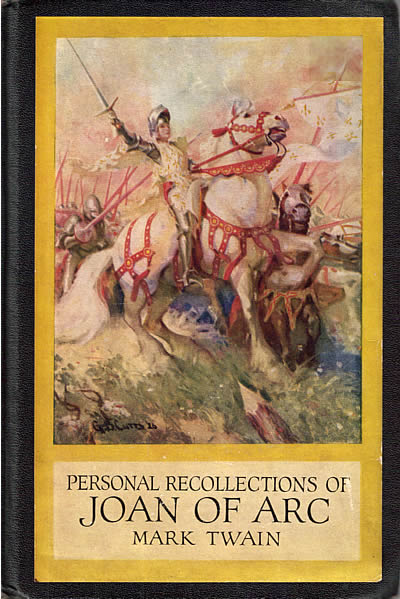 Personal Recollections of Joan of Arc 1926 holiday edition
Personal Recollections of Joan of Arc was released in the pictorial hardcover gift edition format for the holiday season of 1926. The edition features a color cover and identical frontispiece plus twelve additional full-page black and white illustrations by George Berthon Cutts. [Note: a number of internet resources incorrectly give his middle name as Berthoy.] Cutts signed the cover illustration "G. B Cutts '26."
Cutts was born in Canada on July 3, 1893, the son of Canadian artist William Malcolm Cutts (b. 1857 - d. 1943) and his first wife Charlotte Elizabeth Hogarth. George B. Cutts married Petronella Clinton in 1913 and the couple immigrated to the United States about 1916. By that time Cutts had already established his career as a commercial artist. By 1920 the couple and their four children had settled in Freeport, Nassau, New York. Cutts became the third artist Harper and Brothers commissioned to illustrate Joan of Arc. The first edition had been illustrated by Frank Vincent Du Mond in 1896. Howard Pyle had illustrated the 1904 essay "Saint Joan of Arc" which was later released as a separate holiday edition along with Pyle's original illustrations. It is likely that Harper did not want to duplicate Pyle's illustrations in another holiday edition and thus Cutts received the assignment in 1926 for a new set of drawings. Cutts died in Canterbury, Windham, Connecticut in September 1970. His thirteen illustrations are:
"Follow Me!" She Cried - color cover and frontispiece
The Matter Ended There, of Course, the Victory Was With the Priest
"For It Is Appointed That I Shall Drive the English Out of France"
Now Out of the Pitchy Darkness Came the Sharp Command, "Halt!"
The Limp But Proud Barber Hanging There Like a Puppy Held By the Scruff of Its Neck
"There They Come -- Satan and the Page of Christ!"
If the English Had Captured Joan Then, Charles VII Would Have Flown the Country
"You Have Insulted the Maid, and the Maid Is France. The Tongue That Does That Earns a Long Furlough"
Uncle Laxart Wanted to Get Off and Go By the Next Bull or Some Other Way That Was Quieter
He Drew His Dagger and Flung Himself at Her
They Have Not Conquered Her; She Is Joan of Art Still
Now Fell a Thunderclap Out of a Clear Sky, "Take Me to the Pope"
A Frantic Man in Priest's Garb Tore Through the Crown and Flung Himself on His Knees, Crying Out: "O Forgive, Forgive!"
_____
Life on the Mississippi (1927)
with Cover and Frontispiece by Frank Earle Schoonover and
Black and White Illustrations by Walter Stewart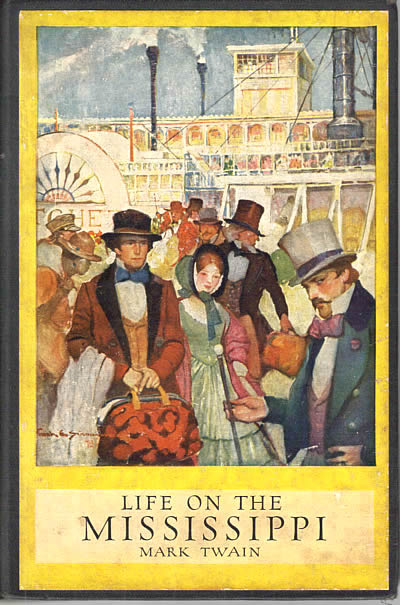 Life on the Mississippi 1927 holiday edition
Mark Twain's Life on the Mississippi was the final holiday edition in pictorial hardcover format released in the decade of the 1920s. The original selling price was $2.50. The earliest copies feature the 1927 date printed in red on the title page and printing code F-B (June 1927). Copies of the book with older printing codes of 1919 accompanied by the 1917 copyright dates have confused collectors and bibliographers alike. The color cover, which also served as the frontispiece, was drawn by Frank Earle Schoonover who dated his illustration 1927. Schoonover received credit for his work in early advertisements and on dust jackets that accompanied the book.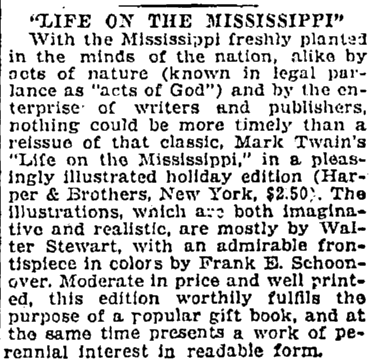 Ad from Springfield (MA) Republican, 11 December 1927, p. 60 announcing the holiday edition of Life on the Mississippi


| | |
| --- | --- |
| Schoonover was born on August 19, 1877 in Oxford, New Jersey. He graduated with honors from from the Trenton Model School in 1896 and then went to Philadelphia to study with Howard Pyle at Drexel Institute. By 1900 he relocated to Wilmington, Delaware to continue his studies with Pyle. After 1906 he opened his own studio in Wilmington and launched a prolific career as one of America's foremost illustrators of his day contributing to magazines such as Saturday Evening Post, Harper's, Scribner's, Outing, American Boy Magazine, Ladies Home Journal, and Colliers, Throughout the 1920s he produced covers for the Harper's Children's classics series including Kidnapped, Robinson Crusoe, Heidi, Hans Brinker, and Swiss Family Robinson. Schoonover died in Wilmington, Delaware in September 1972. | Frank E. Schoonover photo courtesy of Louise Schoonover Smith |
Schoonover's cover for Life on the Mississippi is uncredited in the illustrations list, but according to Schoonover historians, the original painting is titled "1861" and measures 36"H x 28"W. It was also featured on the cover of DuPont Magazine in February 1930. In addition to Schoonover's cover and frontispiece, illustrator Walter Stewart contributed twelve full page black and white illustrations to the 1927 holiday edition. Little is known of Stewart's background. Schoonover historians identify him as one of Schoonover's students. Stewart apparently lived until at least 1978. One of his portraits with his signature and that date has been located in online auction records. The work of Schoonover and Stewart to reillustrate Life on the Mississippi represented the first time since 1899 that new artwork had been commissioned by Harper and Brothers for the book. Stewart's illustrations for the book are:
No girl could withstand his charms. He "cut out" every boy in the village
I got to tilting my cap ... and wearing a toothpick in my mouth at the wheel. Mr. Bixby had his eye on these airs
Reluctantly the ten outsiders yielded . . . and made application
"I am going to pay them off in alphabetical order!" Then he turned and disappeared
He used to fringe the river all the way. ... Where now is the once wood-yard man?
They didn't hunt for each other, but when they happened to meet, they pulled and began
A Mississippi inundation is the next most wasting infliction to a fire. (The flood of 1882)
"De dog he went for de shell, gwine to pick a fuss wid it; but I didn't; I says I's got business out in de woods!"
The beauty and the chivalry or New Orleans
We had a heavy thunder-storm at Natchez, another at Vicksburg, and a third accompanied by a raging wind
Once or twice a day the saddler used to go tearing down the street: and then everybody knew a steamboat was coming
The unholy train comes tearing along . . . . These railroads have made havoc with the steamboat commerce
Life on the Mississippi in the holiday edition pictorial hardcover continued to be sold by Harper and Brothers throughout the 1930s and possibly a number of years thereafter. Later editions of the book reduced the number of Stewart's illustrations from twelve to eight.
_____

Slovenly Peter (1935)
With Illustrations by Fritz Kredel
based on the original illustrations by Heinrich Hoffmann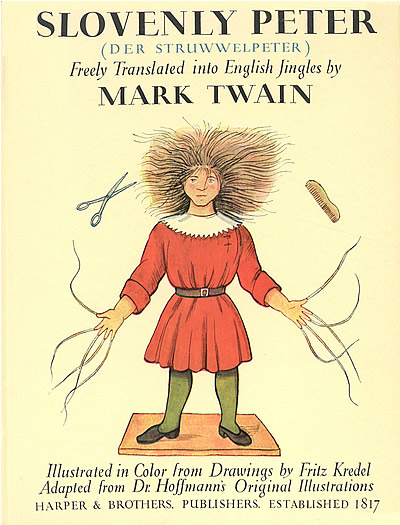 Slovenly Peter is a posthumous work first published in 1935
History Behind Clemens's Translation of Der Struwwelpeter
Slovenly Peter is Mark Twain's English translation of Der Struwwelpeter, an illustrated collection of eleven children's poems written by German physician Heinrich Hoffmann (b. 1809 - d. 1894) in the 1840s. Clemens read Der Struwwelpeter while living in Berlin in October 1891. Hoffmann's book was unique at the time because it featured naughty children, violence, gore and dark humor -- all of which held a strong appeal for Clemens. Hoffmann had drawn the illustrations himself and Clemens amused himself with translating the verses, taking his cues from Hoffmann's illustrations. Clemens intended his translation to be not only a Christmas present for his daughters, but also a Christmas publication in the United States as well. Clemens planned to have his own publishing firm Charles L. Webster and Company publish his translation and went so far as writing an introduction to his book.
Struwwelpeter is the best known book in Germany, and has the largest sale known to the book trade, and the widest circulation. For nearly fifty years it has had its home in every German nursery. No man can divine just where its mysterious fascination lies, perhaps, but that it has a peculiar and powerful fascination for children is a fact that was settled long ago.

The book was not an intention -- it was an accident. Dr. Hoffmann had among his child-patients some who raised war when be tried to insert the formidable medicines of the olden time into them; and to pacify them he used to snatch a pencil and dash off an absurd picture and a verse or two of descriptive doggerel and win a quick peace with them. These things accumulated on his hands and one day he pasted them together and made a Christmas book for his little son out of them. Grown people were taken with it, and persuaded him to publish it. The result astonished him; the book swept the country like a prairie fire -- swept Europe, in fact, for it was soon translated into the principal languages of the continent, and achieved popularity everywhere.

It was Dr. Hoffmann's opinion that the charm of the book lay not in the subjects or the pictures, but wholly in the jingle. That may be true, for rhymes that jingle felicitously are very dear to a child's ear, In this translation I have done my best to fetch the jingle along.

- MARK TWAIN
Berlin, October 1891
On October 27, 1891, writing from Berlin, Clemens gave various instructions to Fred J. Hall, his manager at Webster and Company, for getting the book published, "I want it on the American market Dec. 10 to catch the holidays" (Hill, p. 287). Clemens's instructions included suggestions about how to reprint Hoffmann's original illustrations in color telling Hall, "I want my translation to be printed on the blank page facing the corresponding picture and the corresponding German verses" (Hill, p. 287). Swept up in his plan to publish the translation, Clemens also instructed Hall to sell McClure's Magazine several verses for publication as an advertisement for the upcoming book. His plan also called for a British edition to be issued by his publisher Chatto. The next day, on October 28, Clemens again wrote to Hall telling him the difficulty he had in obtaining copies of plates or sheets of Hoffmann's original work to use in the project and his concern regarding whether or not the German text and pictures had been copyrighted.
Years later, in his autobiographical dication on November 22, 1906, unpublished until October 2013, Clemens stated he had gone to visit "the venerable author of 'Struwwelpeter.'" Clemens went on to praise the German copyright laws which protected an author for his life's duration and stated that Hoffmann "stood in need of the income produced by that accidentally begotten primer, and when I saw him, in his old age, that income was his sole support." (Autobiography of Mark Twain, Volume 2, 2013, p. 285)
Further correspondence regarding publishing Slovenly Peter during Mark Twain's lifetime is lacking and some scholars have suggested that the copyright issues could not be overcome. From 1851 to 1888 Hoffmann had served as the director of the state mental hospital in Frankfurt. Hoffmann considered his illustrations, which wove themselves around the text of each poem, so integral to his text that he "tightly controlled the reproduction of his work within Germany and, as far as he could, in other countries" (Ashton and Peterson, p. 38). Most pirated editions and translations of the work retained Hoffmann's illustrations. Clemens does not mention his own translation during his 1906 autobiographical dictation nor his reasons behind dropping his plans to publish it.
How Mark Twain's Translation Was Different
Mark Twain's translation of Der Struwwelpeter comprises twenty-six handwritten pages. Der Struwwelpeter had been translated into English and published in the United States as early as the 1850s. The translation published by John C. Winston in the 1880s was the most widely known English translation. But Clemens's translation was different and uniquely Twain. Comparing sample pages of his translation to previous English translations provides insight into the liberties he took with the verses.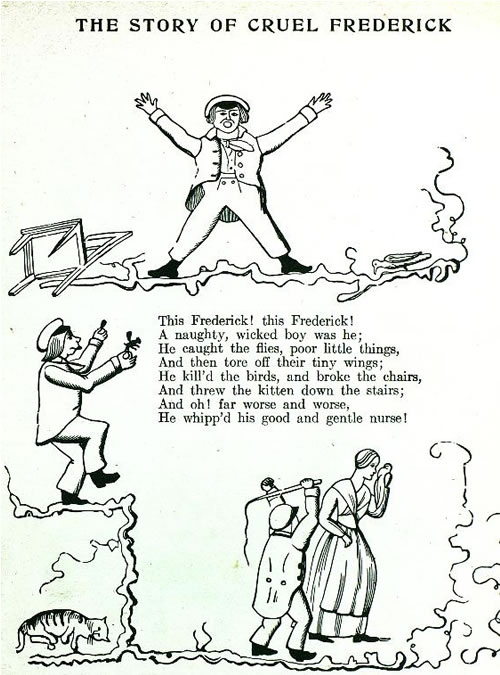 "The Story of Cruel Frederick" from the John C. Winston translation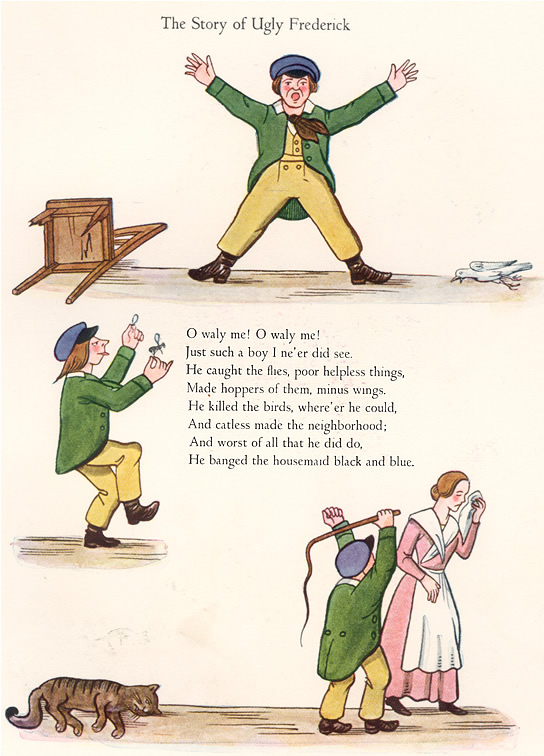 "The Story of Ugly Frederick" translated by Mark Twain
One translation that has drawn the most interest of Mark Twain scholars and what it indicates about Clemens's racial attitudes is his translation of verses regarding a young black man who is the object of ridicule.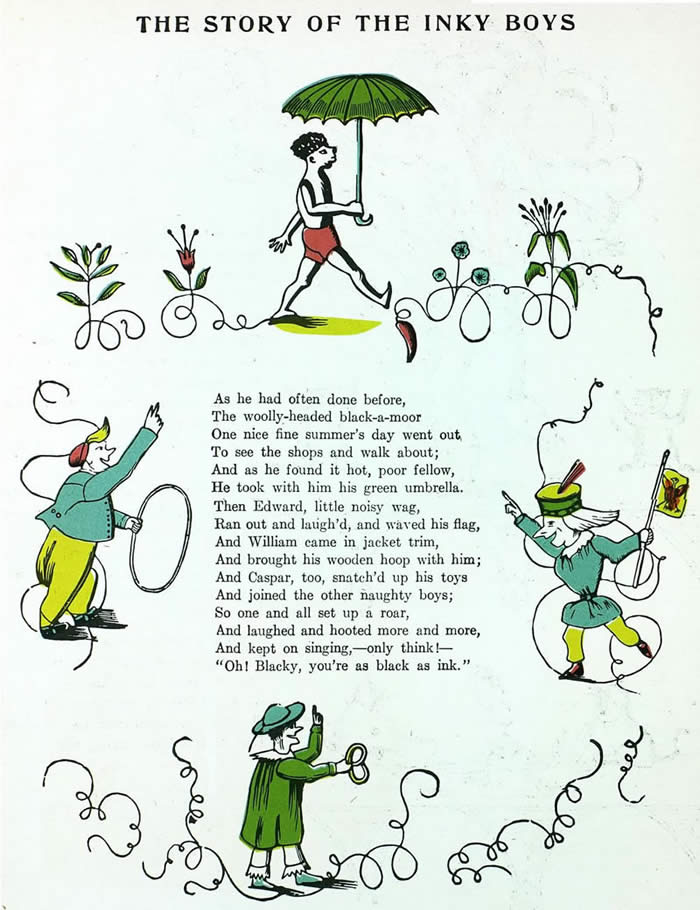 "The Story of the Inky Boys" from the John C. Winston translation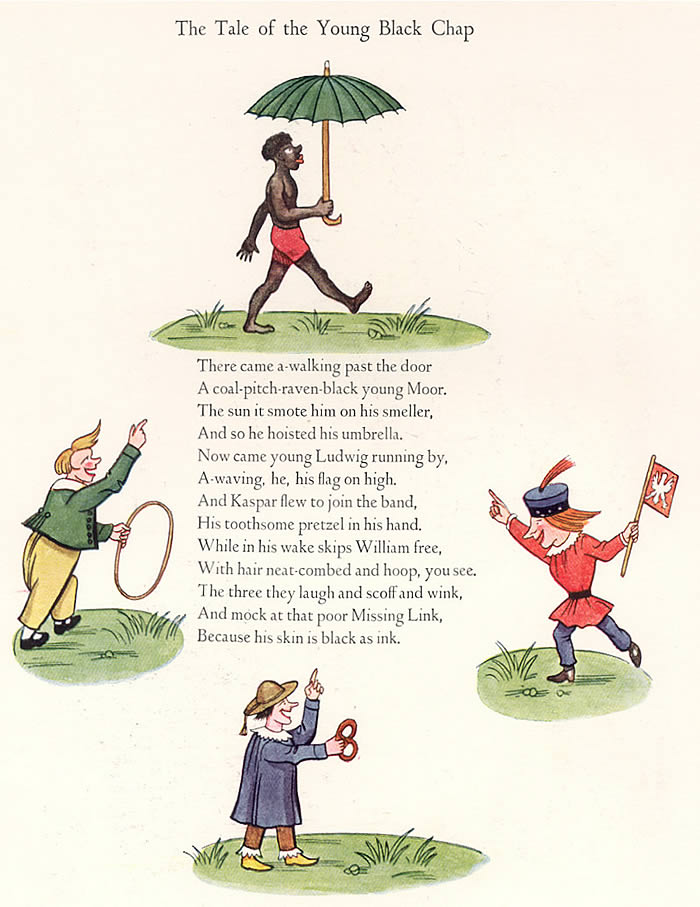 "The Tale of the Young Black Chap" translated by Mark Twain
Mark Twain's translation of "The Tale of the Young Black Chap" ventures from the original verse and includes a reference to "that poor Missing Link" -- an allusion to the theories of evolution of Charles Darwin.
[For comparison purposes, at least two English language translations are available online including the one published by John C. Winston from the University of Florida website and the translation published by Frederick Warne from Project Gutenberg. Neither of these editions credit the translator.]
After Clemens's death his manuscript of Slovenly Peter passed through several hands before it ended up being sold it to Willard S. Morse (b. 1856 - d. 1935) in 1912. Biographer Albert Bigelow Paine was not familiar with the work at that time and was apparently unaware of Clemens's strong initial determination to publish it. Paine suggested:
My opinion is that Mr. Clemens began it, expecting to print it, but by the time he had finished it he had realized that he had departed too far from the original for that; had burlesqued it too much, perhaps, and so gave it as a literary curiosity to some friend. (Wecter, p. 34).
Paine's criticism of the translation was echoed by other scholars such as John T. Krumpelmann who wrote in 1953 that:
In general, the mercurial Mark seems to have been unable to restrain an impulse to be funnier than the original. ... although the first couplet of each story is, as a rule, a real translation of the original, the remainder of the story diverges from the German and is characterized by padding ..., approximation, and more or less free invention justified, if at all, only by suggestions offered by the accompanying illustrations (Krumpelmann, p. 20).
Ashton and Peterson wrote:
Twain's interest in Struwwelpeter is not surprising. Hoffmann's poems focus upon and perhaps even glamorize bad children, a theme that had a lifelong fascination for Twain. Hence Twain highlighted aspects of Struwwelpeter that had gone unremarked in earlier English-language versions, added some of his own embellishments, and succeeded in creating a work of energy and wit that may have better reflected the tenor of the original Hoffmann poems than did many of the more widely published translations (Ashton and Peterson, p. 36).
In 1915 Willard Morse tried to gain permission from Harper and Brothers to publish Twain's translation. Morse proposed a deluxe edition of 25 copies and a trade edition. Harper and Brothers, however, abandoned the scheme in the wake of anti-German sentiment surrounding the first World War.
Publication of Mark Twain's Slovenly Peter in 1935
Almost ten years after Willard Morse had attempted and failed to get permission to publish Mark Twain's Slovenly Peter, the New York Times announced on September 13, 1934 that the Limited Editions Club would be publishing the work. The price the Limited Editions Club had paid to Harper and Brothers for the first publication rights to the work is unknown. The book was printed by Marchbanks Press of New York and deposited for copyright on August 28, 1935, the centennial year of Mark Twain's birth. It was limited in number to 1,500 copies. The Limited Editions Club sent the following information dated July 9, 1935 to prospective book buyers: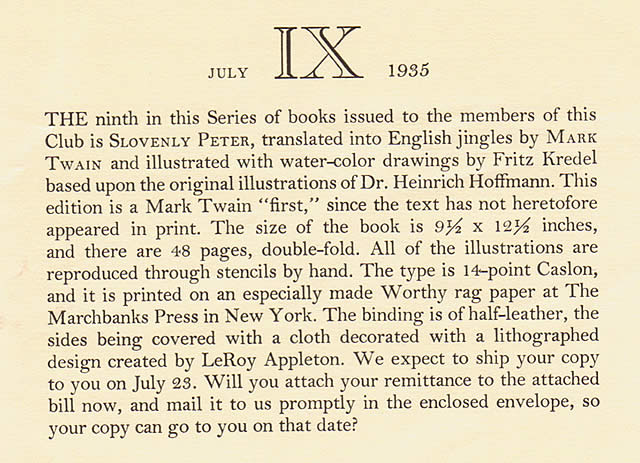 Limited Editions Club ordering stub courtesy of Kevin Mac Donnell
The Limited Editions club book features red quarter calf binding with leather spine and decorated front and back covers designed by LeRoy Appleton with full color vignettes from the stories. A slipcase and chemise, an inner liner, are covered in velure. Illustrations by Fritz Kredel were based on the originals by Hoffmann. The illustrations were stencilled in colors giving them the vivid appearance of hand coloring. The book was issued in a plain unprinted ungrained glassine dust jacket. Clara Clemens wrote an introduction recalling how her father had wrapped up his translation in a red ribbon for his children as a Christmas present back in 1891 and read the stories to his daughters that morning. This edition also reprinted Mark Twain's introduction as a "Translator's Note" that he written in December 1891. There is also a second introduction by Philip Hofer, an art historian who was at the time the first assistant director of the Morgan Library in New York
On November 14, 1935 Harper and Brothers issued the trade edition of Slovenly Peter in time to reach the mass holiday buyers' market. The printing code for the trade edition features the letters K-K indicating it was printed October 1935. It is bound in a pictorial hardcover with matching dust jacket. It does not feature Mark Twain's "Translator's Note" nor the introduction by Philip Hofer. This edition did retain Clara Clemens's introduction. The trade edition was priced at $1.50. Harper's advertising emphasized the fact that the book had been a Christmas present from Mark Twain to his daughters.
Illustrator Fritz Kredel
Newspapers around the country published positive reviews for Mark Twain's Slovenly Peter and commented on the work done by illustrator Fritz Kredel. According to one review:
The publishers were eager to reproduce the spirit of the original drawings as closely as possible, but since only four copies of the first printing are known, this was difficult to accomplish. Finally the artist, Fritz Kredel, borrowed one of these four from the library in Frankfurt-am-Main, where he lives, and made drawings in color that are faithful to the originals (Dallas Morning News, 23 December 1935).
Fritz Kredel was born in Michelstadt-im-Odenwald, Germany on February 8, 1900. In the 1920s he studied art at the Offenbach School of Design under Rudolf Koch, a leading German artist and calligrapher. Kredel also studied medicine in Heidelberg and Paris and by the mid 1930s he had relocated to Frankfurt, the old hometown of Heinrich Hoffmann, where he had established a medical practice. How Kredel obtained the commission from Harper and Brothers to illustrate Mark Twain's translation of Slovenly Peter is unknown, but his access to the local library and the ability to locate copies of Hoffmann's original publications served to his advantage. In 1936 Kredel left Germany for Austria due to the rising tide of Nazism and anti-Jewish sentiment. In 1938 he won the gold medal for book illustration at the Paris World Exhibition. Kredel emigrated to the United States in 1938 and for a while taught at Cooper Union in New York. In 1940 he illustrated Eleanor Roosevelt's book Christmas. His other work included assignments for publishers such as Alfred A. Knopf, Grosset and Dunlap, Random House, Peter Pauper Press, the Limited Editions Club. He was commissioned to create a woodcut of the Presidential Seal for the inauguration of John F. Kennedy in 1961. Kredel died in New York in June 1973.
Contents of Slovenly Peter
Kredel's illustrations are featured on twenty-four pages of the book accompanying eleven poems. The poems' titles, as translated by Mark Twain, are:
Untitled introductory verse
Slovenly Peter
The Story of Ugly Frederick
The Sad Tale of the Match-Box
The Tale of the Young Black Chap
The Tale of the Terrible Hunter
The Story of the Thumb-Sucker
The Tale of Soupy-Kaspar
The Tale of Fussy-Philip
The History of Hans-Stare-in-the-Air
The Story of Flying Robert
Slovenly Peter remains one of the rarest and most collectible of all the Harper and Brother's holiday editions of Mark Twain's works. It features little in common with previous gift editions other than the fact that it contained colored illustrations and was released to the public during the Christmas buying season. It has not been reprinted by Harper since its initial release and remains under copyright to the publisher.
_____
Summary of Features of the Harper and Brothers Pictorial Hardcover or Gift Editions
Volumes were released during the Christmas buying season
Featured colored pictorial hardcover bindings and matching dust jackets
Never sold in multi-volume sets
Most were not truly uniform to previous gift edition volumes
A. L. A. Booklist, Volume 7, No. 3, November 1910.
Ashton, Susanna and Amy Jean Petersen, "Fetching the Jingle Along: Mark Twain's Slovenly Peter," Children's Literature Association Quarterly, Vol. 20, No. 1, Spring 1995, pp. 36 - 41.
Autobiography of Mark Twain, Volume 2. Benjamin Griffin and Harriet Elinor Smith, ed. (University of California Press, 2013).
Blanck, Jacob. Bibliography of American Literature, Volume Two. (Yale University Press, 1957).
"Booknotes," The New York Times, 13 September 1934, p. 21.
"Books Published Today," The New York Times, 12 November 1935.
"By Mark Twain," Dallas Morning News, 22 December 1935.
Catalogue of Copyright Entries, Part 1, Group 1 Books. Library of Congress Copyright Office, November, 1917.
Catalogue of Copyright Entries, Part 1, Group 1 Books. Library of Congress Copyright Office, 1919.
Catalogue of Copyright Entries, Part 1, Books, Group 1, Library of Congress Copyright Office, 1923.
"Eugene M. Franzden," Field Guide to Wild American Pulp Artists website. (Accessed online 3 November 2011).
"Frank E. Schoonover, American Illustrator" website. (Accessed online 6 November 2011).
"Fritz Kredel." Accessed online 12 November 2011.
"Fritz Kredel, Illustrator, 73; Won Medal for His Work," The New York Times, 13 June 1973, p. 50.
Gribben, Alan. Mark Twain's Library: A Reconstruction. (G. K. Hall, 1980).
"The Grolier Club: Fritz Kredel Centennial Exhibition." Accessed online 12 November 2011.

"Harper and Brothers New Holiday Books," McBride's Magazine, Volume 86, December 1910, p. 774.
Heighway, David. "HC Grows Four Famous 20th Century Illustrators; Two Sets of Brothers Were Popular in the Publishing Business," Hamilton County Business Magazine, 2 May 2011. (Accessed online 8 October 2011.)
Hill, Hamlin, ed. Mark Twain's Letters to His Publishers, 1867 - 1894. University of California Press, 1967.
"Hofer, Philip," Dictionary of Art Historians. Accessed online 17 November 2011.
Horgan, S. H. "Franklin Booth, Artist -- An Appreciation," The Inland Printer, Volume 54, January 1915, pp. 506 - 507.
"Interesting News Concerning Authors of Current and Forthcoming Publications," Dallas Morning News, 15 July, 1923, p. 7.
Krumpelmann, John T. Mark Twain and the German Language. Louisiana State University Press, 1953.
Lupack, Barbara Tepa and Alan Lupack. Illustrating Camelot. (D. S. Brewer, 2008).
Mac Donnell, Kevin. Personal correspondence, 18 November 2011.
"National School of Art" display ad, School Arts, June 1908, p. 27.
"The Passover Haggadah: Fritz Kredel." Accessed online 12 November 2011.
"Pitz, Henry Clarence," Pennsylvania Center for the Book website. (Accessed online 3 November 2011.)
Rasmussen, R. Kent. Critical Companion to Mark Twain, Volumes I and II. (Facts on File, 2007).
Reed, Walt. The Illustrator in America, 1860 - 2000. (Society of Illustrators, 2001).
"'Tom Sawyer' In a New Suit," The New York Times, 21 January 1911, p. BR28.
"Wilfred J. Jones, 1888 - 1968," Guild of Natural Science Illustrators. (Accessed online 8 October 2011.)
Wecter, Dixon, "Mark Twain as Translator from the German," American Literature 13 (1941): 257-63. Reprinted in On Mark Twain, edited by Louis J. Budd and Edwin H. Cady, Duke University Press (1987).
"Worth Brehm Dies," The New York Times, 29 November 1928, p. 27.
Zempel, Edward and Linda A. Verkler. First Editions: A Guide to Identification. (Spoon River Press, 1989.)