Home | Quotations | Newspaper Articles | Special Features | Links | Search
SPECIAL FEATURE
WASHINGTON TIMES, September 17, 1903, p. 5.
TWAIN WOULD RIDE WITH MONK'S GHOST
Great Humorist Who Immortalized Stage Driver Talks of St. Louis Exhibit.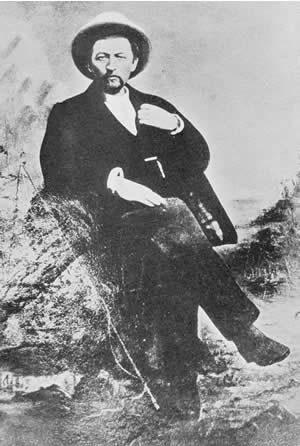 Stagecoach driver Hank Monk
Photo from private collection.
That stage driver of the pioneer days played an important part in the development of the great West, and fairly won a place in the national history, is evidenced by the deep interest that has been aroused by the announcement that the Hank Monk relics will be exhibited by Nevada at the World's Fair, St. Louis.
It has been announced that J. A. Yerrington, Nevada's executive commissioner, has secured the old coach that Hank Monk drove -- the one in which he took Horace Greeley into Placerville "on time," and will use it at the World's Fair as the coach of State for Nevada.
In "Roughing It" Mark Twain's first famous book, Hank Monk was immortalized by the famous humorist, when he described the celebrated drive by which Hank Monk got the great editor into Placerville in time to keep a lecture engagement.
Dr. Clemens, at his picturesque Quarry Farm, in Elmira, N.Y., remembers well the thrilling early days, and when information reached him of Mr. Yerrington's intention to exhibit the Hank Monk relics he said:
"This announcement brings a weight of years down upon my head. Those two names carry me back thirty-two years -- Hank Monk and Yerrington. I think I was present when the watch was given Monk, but one cannot be very sure of things that happened in such ancient times. I am only sure that I knew Monk a little and that I knew Mr. Yerrington's father well. I made one trip with Monk in that old stage; I wish I could be in St. Louis on my day next June and make one with his ghost."
Hank Monk was a New Yorker, having been born in Waddington, St. Lawrence county. He was a stage driver all his life. He spent his early years driving a stage between Wellington and Massena. George A. Monk, a brother of the famous stage driver, now lives in Gouvernor, N. Y., and a sister, Mrs. R. N. Kellog lives in Hartford, Conn. George A. Monk has a number of relics that he will loan Mr. Yerrington and they will be added to the World's Fair collection.
"Hank always had a desire to drive stage," said Mr. Monk in speaking of the proposed exhibit, "from the days when he was a mere boy at Waddington, and could scarcely trudge around and was only strong enough to snap a whip with great exertion of his little arms. When he was only twelve years old he drove stage from Waddington to Massena, and I am told by the older residents of the town that he was a good driver, even at that early age.
"Hank was born in Waddington in 1828. He was the eldest of a family of four children. Our family was of the same origin as the good Vermont stock in 'Eben Holden.' Grandfather and grandmother came from Vermont in 1809, making the journey to Waddington through the woods. When Hank first took the Waddington-Massena route many shook their heads and said he was too young, but he showed the doubters that he was a natural driver.
"When gold was discovered in 1849 Hank wanted to make a trip to the coast. Mother objected strongly, and he deferred the trip for a time, holding to the stage route while he remained in this part of the country. But when he was twenty-four years of age, in 1852, the fever was too much for him and he went West. The next time the people at home heard from him he was driving a six-horse stage coach in the Sierras. For many years he drove the Well-Fargo stage, from Sacramento to Placerville. It was here that he first became acquainted with Joaquin Miller, California's poet, who later won such fame in verse.
"Hank was running out of Virginia City when Horace Greeley made the trip to Placerville, which is described by Dr. Clemens in 'Roughing It.' The distance was forty miles and the trip was made in four hours.
"Nearly everyone on the coast and directly east of the mountains came to know my brother, either personally or by repute, as early as the sixties, and gradually his reputation crossed the divide, and came through the East. He was an adventurous fellow, but he took no chances when his coach was loaded. He died in 1883."



Home | Quotations | Newspaper Articles | Special Features | Links | Search