Quotations | Newspaper Articles | Special Features | Links | Search


Newspaper reports from the New Orleans Times Democrat

---
New Orleans Times Democrat, Thursday, January 14, 1909, p. 7.
DEATH MASK OF U.S. GRANT IN CITY; SCULPTOR LIVING HERE IN OBSCURITY
Received from Hartford, Conn., in a plain packing case, wrapped in many musty papers, the original death mask of Gen. Ulysses S. Grant now is in New Orleans, while the once famous sculptor who took it is living here in obsurity. The death mask was exhibited to a representative of The Times-Democrat by Attorney P. A. Lelong, Jr., who has it in his possession for his client, Karl Gerhardt, the artist who took it from the countenance of the famous General only a few hours after death had occurred at Mount McGregor, N.Y., July 23, 1885. The mask is a plaster cast, and in two sections, the outlines of the strong face of the famous soldier and statesman are clear and sharp, and a cast could be taken from it at any time.
Karl Gerhardt, the sculptor, is living in New Orleans, no longer heeding the uplifting call of art, but earning his living by hard work whenever it is obtainable. How the mask came here is of interest. Some time after it was taken the sculptor, Gerhardt, gave it to his friend, Walter Sanford of Hartford, Conn., with the understanding that he was to carry out certain obligations in connection with it. The obligations were not fully complied with, for some reason, and meanwhile Walter Sanford, who was a wealthy gentleman of Hartford, died. Through various vicissitudes of fortune Karl Gerhardt came to New Orleans, and a short time since sought the services of Attorney LeLong, and among other matters, placed in his hands was that of obtaining from the estate of Walter Sanford the famous mask. After some correspondence Attorney Lelong succeeded in having the mask shipped to him, and it now is in his office awaiting further disposition by its owner.
Karl Gerhardt is one of America's famous sculptors. He was born in Boston, Jan. 7, 1853; studied in Paris under the famous Falguieres, and was a contemporary of St. Gaudens and other famous sculptors of the time. Among famous works of Gerhardt are busts of U. S. Grant, Henry Ward Beecher and Samuel L. Clemens. He also designed and sculptured the beautiful statues of Nathan Hale and Israel Putnam which adorn the Connecticut State Capitol.
When it was known that Grant was dying many sculptors desired the honor of taking the death mask. Karl Gerhardt, with true American enterprise, in order to be on the ground, camped in a tent near where the famous statesman was slowly dying. When death came he was summoned to exercise his skill by taking in plaster the outlines of the great man's countenance in order that they might be hewn in enduring marble for the benefit of posterity.
Lying in the box in Attorney Lelong's office with the death mask are a number of copies of periodicals of the time, giving accounts of the death of Grant, and also some that contained descriptions of the unveiling ceremonies of the statues of Nathan Hale and Israel Putnam.
When Gerhardt was in the height of his fame he was much sought after by men of prominence and was in affluent circumstances. Like many others, however, he became enamored with mining stocks and lost all he had earned by investments in gold mining schemes which never produced the gold. He was an intimate friend of Samuel L. Clemens and also of St. Gaudens. With the loss of his money came other misfortunes, and today the sculptor who, it is said by some, bade fair to rival the great Powers, no longer brings beauty from marble, but is employed in an establishment uptown where none would ever imagine that the hands which work in commonplace pursuits had once the touch of a possible Michael Angelo. Sometimes, for his few friends, he will take a small piece of clay and mold it into a likeness or a form of beauty, but has not for many years done any work in the calling which once usurped his energies and ambition.
~~~~~
New Orleans Times Democrat, March 19, 1909, p. 6
DEATH MASK OF GENERAL U. S. GRANT IS TO BE PUT ON EXHIBITION HERE
Preparations are being made to place on exhibition the original death mask of Gen. Ulysses S. Grant, which is now in this city, an account of which appeared some time ago in The Times-Democrat. The mask is at present in the possession of Attorney P. A. Lelong, Jr., who represents the sculptor, by whose consent and through the efforts of T. P. Thompson, a member of the Louisiana Historical Society, the mask is to be exhibited in some prominent place, probably at the State Museum, in order that all interested parties may view this historic relic of the great soldier and statesman.
Karl Gerhardt, who was present when the death of Grant occurred and who took the death mask, has been a resident of this city for some time, but owing to his dislike for notoriety has never made himself prominent until sought out by those interested in showing to the public the mask. He is a native of Boston, and was born in 1853, was a contemporary of St. Gaudens and a student under the celebrated sculptor, Falguieres of Paris. To a representative of The Times-Democrat he exhibited a most interesting collection of autograph letters, including those of Gen. Grant, Mark Twain and other prominent men. He was also prevailed to speak of some of his works and to exhibit photographs. Among these is a statue representing Echo, which is now in the Paris Salon, and is a well-known work of art.
Karl Gerhardt has also designed and consturcted some of the beautiful monuments of this country. Among his works are statues of Nathan Hale and Israel Putnam in the State Capitol of Connecticut; of Israel Putnam, in Brooklyn, Conn., and the beautiful Stannard monument on the battlefield of Gettysburg. On the Round Top at Gettysbury is also his statue of Gen. Warren of the Union army. He also produced the statue of Seth Boyden, the inventor, which stands in Newark, N. J. and of Josiah Bartlett at Amesbury, Mass. Another production of his is the Pioneer group on the Capitol grounds at Des Moines, Ia.
At the World's Cotton Centennial Exposition in 1884-85 he exhibited here a beautiful masterpiece entitled "Eve's Lullaby," and a bust of Mark Twain, and obtained the highest awards from the art committee of the Exposition.
At the time of Gen. Grant's death he was at Mount McGregor making a statuette of the General, and he also produced a bust of Miss Jessie Grant. Mr. Gerhardt will submit a design for the Beauregard monument to be erected at the City Park, and probably for the Jefferson Davis monument when the Jefferson Davis Monument Association is ready to have designed submitted.
~~~~~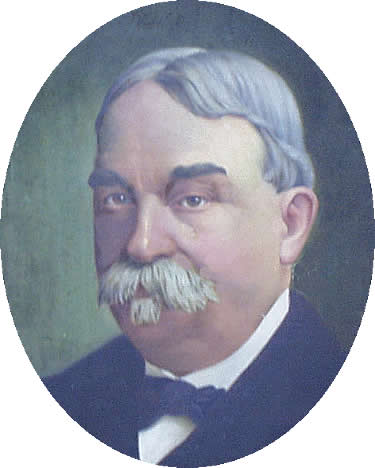 Photo of John T. Moore portrait
by Rudolph Bohunek
courtesy of
Joe Comer, Houston, TX.

New Orleans Times Democrat, April 23, 1909
JOHN T. MOORE DEAD
AGED PLANTER OF SHRIEVER WELL KNOWN HERE.
Death Comes After Long Illness of Complication of Diseases--Passes Away at His Home--Had Been Steamboat Captain and Wholesale Grocer.
News was received here yesterday of the death of John T. Moore at 2 o'clock in the afternoon on his plantation, "Waubun," near Shriever, La. John T. Moore was prominently known in this city and in South Louisiana as a merchant and planter and a gentleman of high character and integrity.
He was a native of St. Louis, where he was born in 1838. When quite young he came to New Orleans, and at one time was a steamboat captain, having commanded the steamboat Ida Handy. Later he was engaged in the wholesale grocery business with John T. Moore, who bore the same name as himself, but was not related to him. For a number of years the firm of John T. Moore & Co. did a successful business. Later in life he engaged in sugar planting and during the last few years had lived on his plantation. Death was due to complications of Bright's disease and was not unexpected, as he had been sick for quite a while.
Many years ago he married the daughter of his partner in business, Miss Julia Moore, who survives with a number of children, who are Mrs. Frank W. Harrison, Charles V. Moore of Schriever, Miss Julia Moore, Mrs. Cleon M. Freret, Mrs. Anna Roger of Thibodaux, Joseph A. Moore and Mrs. C. A. Lelong. The body will be brought to this city and upon the arrival of the 11:40 train of the Southern Pacific Railway will be taken to the Jesuit's Church, where the funeral will be conducted.

---
More: Clipping with Gerhardt's photo from the New Orleans Times Democrat
---


Quotations | Newspaper Articles | Special Features | Links | Search