St. Louis Globe Democrat, June 7, 1902, page 1.
EUGENE FIELD TABLET.
Birthplace Memorial Unveiled by Mark Twain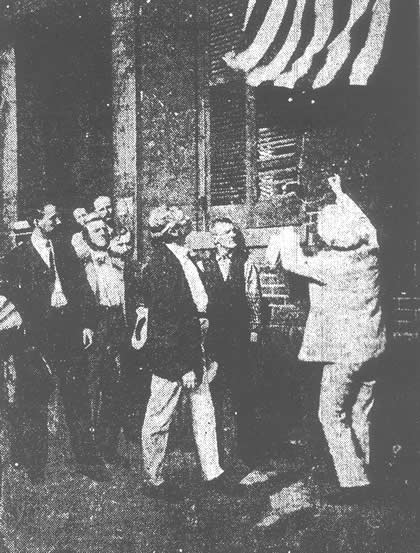 MARK TWAIN UNVEILING THE MEMORIAL TABLET IN THE WALL OF THE HOUSE WHERE EUGENE FIELD WAS BORN.
A great living Missourian paid a tribute to a sweet singer of Missouri when Mark Twain, at 4:30 o'clock yesterday afternoon, unveiled a bronze tablet to the memory of Eugene Field at the house on South Broadway where the poet was born. The ceremony was simple, but impressive, and necessarily. It is expected that the tablet and house will be an objective point for visitors in the city for many years to come.
Immediately on landing from the river trip of the French visitors, the entire party took carriages for 634 South Broadway, the birthplace of Eugene Field. A flag hung listlessly in front of the house, a dingy three-story brick, hiding the tablet which friends of the poet have had erected. Stepping to the front of the party, Mr. Clemens took off his hat and spoke as follows:
"My Friends--We are here with reverence and respect to commemorate and enshrine in memory the house where was born a man who, by his life, made bright the lives of all who knew him, and by his literary efforts cheered the thoughts of thousands who never knew him. I take pleasure in unveiling this tablet to Eugene Field."
As he concluded, Mr. Clemens grasped the cords which held the flag and with a tug detached it from its fastenings, revealing the tablet, on which was the following inscription:
Here was Born
EUGENE FIELD,
The Poet,
1850 - 1895.
President D. R. Francis then spoke as follows: "This is indeed a memorable occasion. This tablet to the memory of Missouri's greatest poet and sweetest singer is unveiled by a man who is not only the greatest Missourian, but the best-known American man of letters of the day. It is a privilege to be here."
An individual in the crowd moved "Three cheers for Mark Twain," which were given with a will by the shirt-sleeved factory hands and others who had gathered, and the party at once returned to their carriages and were driven back to the hotel.
The appearance of Mark Twain as a pilot yesterday marked his first attempt to essay the role of a wheelsman since 1880. In that year he "stood the daylight watches" between Cairo and New Orleans, and he recalled the incidents leading up to the trip yesterday after he had descended from his post at the wheel. He had come West to absorb some Mississippi river fiction for literary purposes.
When asked if the exertion of whirling the wheel was noticeable, he said: "It is good exercise. Do you know that I believe than any unaccustomed exertion is the best exercise. Some years ago I looked ten years older than I do to-day. That was principally because I was bankrupt at the time. The possession of a lot of debts that one can not pay is not a disgrace, but it brings an indescribable feeling of humiliation. It crushes the spirit, and our nerves and muscles are fed by the spirit. I was sick from it. Well, I undertook that lecturing tour with Cable. The routing was abominable. It called for travel by night and day. It meant moving on railroads when we were not on platforms. I did not expect to survive it, but it rejuvenated me. It was new, and it built me up. It gave me ten years of health. I might do it again, but I do not need ten years of health now, because I shall not live that long. There are some people who are sufficiently lacking in discretion to linger alive until they get to be 80, but I am not one of them. I have been in financial straits, and I have also had dyspepsia. In two years I had cured the former trouble, but it was eight years before I got rid of the dyspepsia, and I don't think I ever would have done so had it not been for that 'starvation process.' "