A History of and Guide to
UNIFORM EDITIONS OF MARK TWAIN'S WORKS
Certainly the indications are that this edition hung fire in England ...
- Dennis Welland, Mark Twain in England, p. 199
_____
American Publishing Company's
Author's Edition De Luxe (1899)
released through Chatto and Windus
The history of the Author's Edition De Luxe in Great Britain is best described as an "abortive scheme" by Dennis Welland in Mark Twain in England (1978), the best research to date on that edition. In April 1899 while plans for a uniform edition of Mark Twain's works were still in their infancy, Clemens encouraged his British publisher Andrew Chatto to issue a British edition. Chatto had worked hard to cultivate a personal and professional relationship with Clemens and, according to Kent Rasmussen, earned the "distinction of being perhaps the only publisher that Clemens never turned against" (Rasmussen, p. 627). Chatto agreed to handle a subscription set of an Author's Edition De Luxe. However, Chatto felt the $200 price tag for the set was too high for British citizens. This set, which would be an autographed edition of the American Publishing Company's Edition De Luxe was priced at twelve shillings and six pence per volume -- slightly over $2.00 per book in U. S. dollars and over $50 for the entire set. Clemens was to receive between 75 and 80 cents per volume and the remainder was to be divided between publishers Frank Bliss of American Publishing Company and Andrew Chatto.
In May 1899 the Clemens family relocated to London and in an interview published in the London Chronicle June 3, 1899 Clemens discussed his plans for the Chatto and Windus edition. His views underscore the value he placed on the limited numbers and the high price of his expensive editions:
You see, my American publishers are about to issue an edition deluxe of my books in twenty-two volumes. I have come to London to arrange for the issue of a similar edition through my publishers here, Messrs. Chatto [and Windus]. The volumes will include all my writings which I have revised for the purpose. The publishers are trying to make the books nice -- as fine as they can. The two editions will be limited to a thousand copies each -- limited, mark ye!

"Yes," he soliloquized, "I fancy it's the limitation to a thousand copies that is the chief charm and value of an edition deluxe. I don't expect to read this edition deluxe myself, although you needn't tell that to anybody else. Frankly, you know, I don't suppose that anybody ever reads an edition deluxe. No one puts bric-a-brac to any very practical purpose. There's some human instinct which makes a man treasure what he is not to make any use of, because everybody does not possess it.

Next, he gave me an instance in proof, taken from his own experience with Sir Walter Scott.

"What trouble didn't I go to when I was in Edinburgh in order to get hold of an original Waverly Edition? Naturally, I had to pay a fancy price for it, which is a detail. The point is that it stands in our bookshelves to this day untouched. We have handier volumes of Scott, and read them and admire the others. Part with that edition? Not at all; it's a possession, an asset" (Scharnhorst, p. 335).
Andrew Chatto, Jr. was in Australia during the summer of 1899 and tried to generate orders for the British edition in that part of the world. However, sales prospects for such an edition were not good and by the end of August, Chatto was requesting only 620 sets for Britain and its dependencies. Delivery of the sets was to begin in November with the first two volumes. Clemens had relocated to Sweden by September 1899 and Chatto endeavored to obtain his assistance in generating sales for the set among his European friends. Olivia Clemens, evidently embarrassed by such a suggestion, wrote to Chatto on September 7 telling him they could not distribute sales prospectuses:
as he could not have face to ... suggest to his friends to buy his books. It may be English but it is quite un-American to advertize oneself in this way. ... Mr. Clemens also feels that as the edition is so small you can surely have no difficulty in selling it (Welland, p. 199),
On September 23, Chatto placed the following ad in the London magazine The Speaker: A Review of Politics, Letters, Science and the Arts::

The ad emphasized the works would be released one per month and that the first volume of the set would be signed by the author. It further described the edition as being composed of large and clear type with generous margins on the page. Old Chester pure rag deckle-edged paper, light in weight and soft to the touch containing the MARK TWAIN watermark would be used. The volumes would be octavo and bound in Holliston cloth and top edges gilded.
| | |
| --- | --- |
| Photo courtesy of Bowling Green University. | The Chatto and Windus Author's Edition De Luxe featured the same green cloth binding used on American Publishing Company's Edition De Luxe sets. The paper label on the spine identified the edition as "Author's Edition." |


The paper used in this edition featured the MARK TWAIN watermark.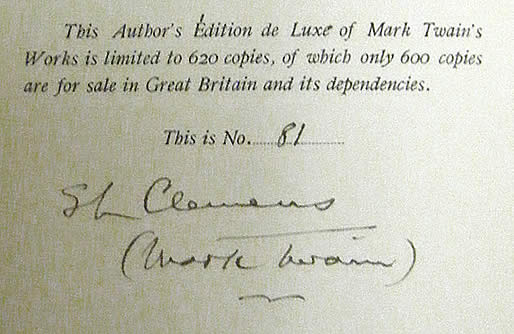 This statement appeared on the back of the flyleaf in every volume. Photo courtesy of Bowling Green University.
Final production numbers for the Chatto and Windus Author's Edition De Luxe totaled only 250 sets even though the limitation statement (written in black ink) gave a figure of 620. Chatto, eventually reduced his order to only 235 numbered sets and 15 sets which would be unnumbered, presumably for reviewers. However, Frank Bliss remained optimistic and in October 1899 asked Clemens to autograph 500 additional copies of the title sheet of Volume 1.
A special title page monogram designed by Tiffany and Company and engraved by W. H. W. Bicknell is a distinguishing characteristic of the Autograph Edition, Author's De Luxe Edition, Edition De Luxe, Japan Edition, and Royal Edition. This page appears in each volume of these sets. It features an SLC monogram surrounded by scenes from Mark Twain's life including a boat, stagecoach, train, and his home in Hartford, Connecticut. The lower left corner features a cabin depicting his humble birthplace in Florida, Missouri.

Less expensive editions such as Underwood, Riverdale, and Hillcrest feature the Tiffany title page in Volume 1 only. It was eliminated altogether from the Author's National Edition.

The original printing plate of this engraving is in the Kevin Mac Donnell collection.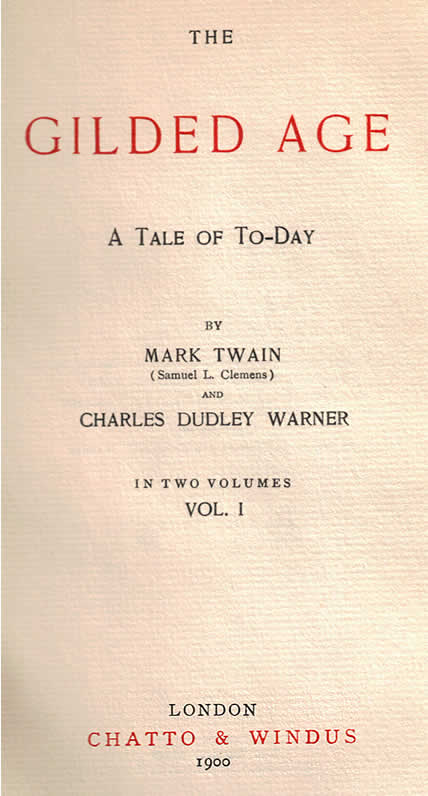 Sample title page from Chatto and Windus Author's De Luxe Edition Volume 10 featuring the 1900 printing date.
Delivery of the sets to England lagged behind distribution in the United States. The first four volumes of the Chatto sets are dated 1899 on the title pages. Beginning with Volume 5, Following the Equator, the date on the title page is 1900. American Publishing Company's imprint is replaced on the title page by Chatto and Windus.
| | |
| --- | --- |
| The first 23 volumes issued by Chatto and Windus were printed in Hartford by Frank Bliss of American Publishing Company. | On the reverse side of the title pages there is a statement indicating the books were printed at the Hartford Press in Connecticut. |
By February 1900 Clemens reported to Frank Bliss that Chatto had found buyers for most of his 235 sets and would probably not need any more. "I don't believe he will need another 250 in these war times. Things have been very dead here this long time" (Welland, p. 199). Between March and June 1900 Chatto sold only twelve sets. By October he still had 33 sets on hand. Clemens promised to give Chatto a list of possible friends who would take them off his hands but by January 1901 Clemens had not delivered on that promise. In July 1901, one of Clemens's friends J. Y. W. MacAlister asked for three sets to be inscribed with additional comments in Clemens's handwriting in the hopes of selling them. However, two of these three sets remained unsold two years after MacAlister's request. When Volume 23 was added to the set in 1903, Clemens personally paid for the new volume to be added to two sets that MacAlister owned. As late as 1906 Chatto had failed to sell his final eight sets and 65 unsold copies of Volume 23. George Gilman, representing American Publishing Company wrote to John Larkin, a Harper attorney in a letter dated 13 October 1903 that the final production numbers for the Author's De Luxe Edition was only 250 sets.
Among the sets sold by Chatto, some have been found to contain manuscript pages and signed letters -- a similar sales tactic to which American collectors had responded. According to bookseller Magus Books of Sacramento, California, set number 38 featured two original handwritten manuscript pages from Twain's first novel, The Gilded Age in Clemens's hand. It also featured an original manuscript page in Warner's hand.

Claremont College in California holds set number 2 which features a letter from Clemens dated 29 December 1888.

Editors of the Mark Twain Papers at the University of California at Berkeley have reported a letter from Clemens to Elisha Bliss, Jr. dated 11 July 1871 being bound into set number 227.
The sale of the British Author's Edition De Luxe was hindered by the fact that Chatto was selling his own Uniform Library Edition series of Mark Twain's works for a fraction of the price per volume of the American set. It is evident from the Chatto sales records that what the British public wanted was inexpensive, not pricey de luxe editions.
_____
Summary of Features of Chatto and Windus Author's Edition De Luxe
Autographed by S. L. Clemens / Mark Twain in Volume 1
Limited to 620 sets; each volume containing the limitation statement with the set number in black ink on the back of the flyleaf
Actual publication numbers were 250 sets
Manuscript leaves or Mark Twain letters bound in some volumes, possibly as special orders
Each volume numbered on the spine with paper label
Green cloth binding
Printed on paper watermarked "MARK TWAIN" in Volumes 1 - 23
Volumes 1 - 4 copyrighted in 1899
Volumes 5 - 22 copyrighted in 1900
Volume 23 added in 1903 and offered to buyers of original sets
Volumes 24 and 25 added by Harper and Brothers in 1906 and 1907 and offered to buyers of original sets
Top edges of pages gilt; side and bottom edges deckled or ragged.
Tiffany title page in every volume
Title pages feature London / Chatto and Windus statement
Reverse of title pages feature Hartford Press statement
Engraved portrait frontispieces of Mark Twain
Total number of illustrations identical in number to the 1899 Autograph Edition
Illustrations protected by tissue guards
Average price for initial sets of 22 volumes $50 in U.S. currency

_____
References
Johnson, Merle. A Bibliography of the Works of Mark Twain. (Harper and Brothers, 1935).
Gilman, George H. to John Larkin, 13 October 1903, reel #50 Archives of Harper and Brothers, 1817 - 1914.
Leary, Lewis, ed. Mark Twain's Correspondence with Henry Huttleston Rogers 1893-1909. (University of California Press, 1969).
Mark Twain Project. Online database of letters and textual commentary at: http://www.marktwainproject.org.
Rasmussen, R. Kent. Critical Companion to Mark Twain, Volumes I and II. (Facts on File, 2007).
Rodney, Robert M. Mark Twain International. (Greenwood Press, 1982).
Scharnhorst, Gary, ed. Mark Twain: The Complete Interviews. (University of Alabama Press, 2006).
Welland, Dennis. Mark Twain in England. (Chatto and Windus, 1978).