A History of and Guide to
UNIFORM EDITIONS OF MARK TWAIN'S WORKS
_____
American Publishing Company's
Royal Edition (1899)
(Updated March 2023)
The American Publishing Company's Royal Edition was never mentioned in any contracts between American Publishing Company and Harper and Brothers. The Royal Edition was printed from the same plates as the Autograph, De Luxe and Japan Editions and was available in both partial leather and full-cloth bindings. The editors of the Mark Twain Project at the University of California at Berkeley report the following two original letters have been found bound into Volumes 1 of the Royal Edition:
A letter from Clemens to Frank Bliss dated 14 June 1879 bound in Vol. 1 of set number 6

A letter from Clemens to Frank Bliss dated 3 March 1880 bound in Vol. 1 of an unidentified set
This practice indicates Frank Bliss was continuing to provide special inducements to buyers of the Royal Edition.
| | |
| --- | --- |
| Photo courtesy of the Mark Twain Project, Univ. of California at Berkeley | Leather and marble boards binding. |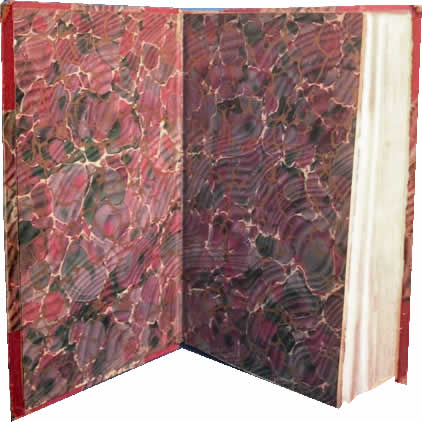 The Royal Edition in leather features marbled end papers and pastedowns.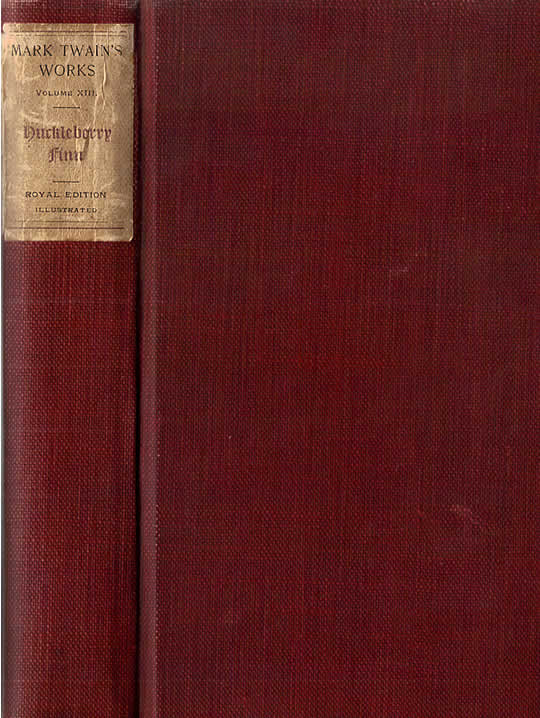 Royal Edition in full-cloth binding features paper label on the spines.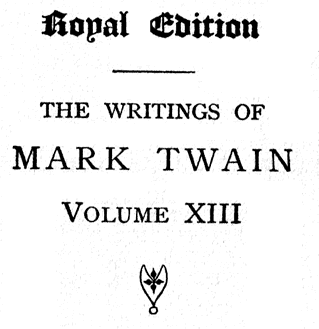 The Royal Edition flyleaf appears in every volume of the edition.
Each individual volume in the Royal Edition was hand numbered in red ink. Three different states of numbering have been found. In some volumes the numbering appears on the back of the flyleaf with no maximum limitation statement.


Limited and Registered statement on the back of the flyleaf gives no total number for the edition.
In some Royal Editions, the registration number appears on the front of the flyleaf within an embossed circle stating New England Company Register Number. The New England Company was the agent for the books east of the Rocky Mountains.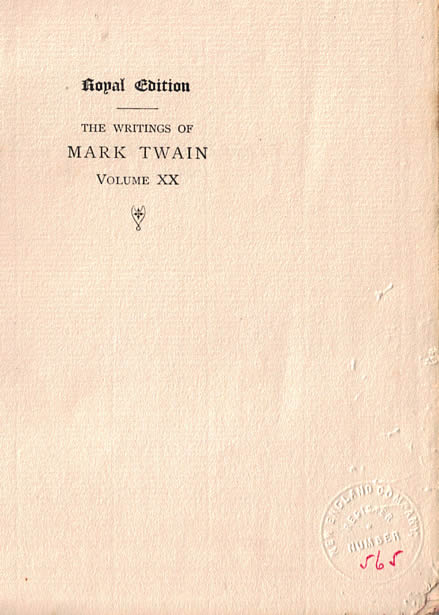 Registration number as it appears on the front of the flyleaf.

Detail of New England Company Register number
Some editions have been found that were numbered with a stated limitation number of 1250 above a printed facsimile of Mark Twain's signed statement.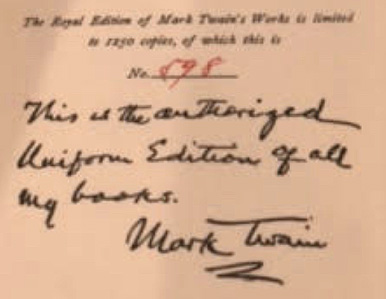 (A special note of thanks to Wendy Akeman for alerting me to her copy of this edition.)
A letter written by George Gilman, representing American Publishing Company to John Larkin, a Harper attorney, dated 13 October 1903 gives the production numbers for the Royal Edition at 1,000 sets.
A special title page monogram designed by Tiffany and Company and engraved by W. H. W. Bicknell is a distinguishing characteristic of the Autograph Edition, Author's De Luxe Edition, Edition De Luxe, Japan Edition, and Royal Edition. This page appears in each volume of these sets. It features an SLC monogram surrounded by scenes from Mark Twain's life including a boat, stagecoach, train, and his home in Hartford, Connecticut. The lower left corner features a cabin depicting his humble birthplace at Florida, Missouri.

Less expensive editions such as Underwood, Riverdale, and Hillcrest feature the Tiffany title page in Volume 1 only. It was eliminated altogether from the Author's National Edition.

The original printing plate of this engraving is in the Kevin Mac Donnell collection.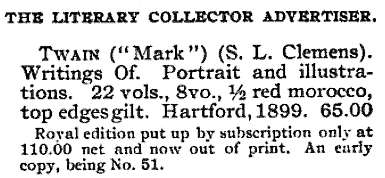 April 1902 ad from Literary Collector indicates the original price was $110 for the set.
_____
Summary of features of Royal Edition
Each volume contains a limitation statement with the set number in red ink on the front or back of flyleaf
Publication numbers stated in some sets are 1250 sets; actual publication numbers may be closer to 1000
Manuscript leaves or Mark Twain letters bound in some volumes as special orders
Custom bindings in both leather and cloth
Each volume numbered on the spine
Volumes 1 - 21 copyrighted in 1899
Volume 22 copyrighted in May 1900
Volume 23 added in 1903 and offered to buyers of original sets
Volumes 24 and 25 added by Harper and Brothers in 1906 and 1907 and offered to buyers of original sets
Top edges of pages gilt; side and bottom edges deckled or ragged.
Tiffany title page in every volume
Engraved portrait frontispieces of Mark Twain
Total number of illustrations identical in number to the 1899 Autograph Edition
Illustrations protected by tissue guards
Average price for initial sets of 22 volumes $110

References
Johnson, Merle. A Bibliography of the Works of Mark Twain. (Harper and Brothers, 1935).
Gilman, George H. to John Larkin, 13 October 1903, reel #50 Archives of Harper and Brothers, 1817 - 1914.
Leary, Lewis, ed. Mark Twain's Correspondence with Henry Huttleston Rogers 1893-1909. (University of California Press, 1969).
Mark Twain Project. Online database of letters and textual commentary at: http://www.marktwainproject.org.
Rodney, Robert M. Mark Twain International. (Greenwood Press, 1982).