A History of and Guide to
UNIFORM EDITIONS OF MARK TWAIN'S WORKS
_____
American Publishing Company's
Riverdale Edition (1901)
The Riverdale Edition of 1901 was the first uniform edition of Mark Twain's works named after one of his residences. Riverdale-on-the-Hudson is now a part of the Bronx, New York City's northernmost borough. In 1901 Riverdale was a residential community when Clemens rented a three-story home there known as Wave Hill, formerly the home of publisher William Henry Appleton. The Clemens family lived at Riverdale from October 1901 through 1903.
A letter written by George Gilman, representing American Publishing Company to John Larkin, a Harper attorney, dated 13 October 1903 describes the production of the Riverdale Edition:
What was left in our hands of those numbered editions, were sold to Newbegin and Co., who afterwards became known as the Anglo American Company, and for them we also published, printed and manufactured the Underwood Edition of 2500 sets, the latter portion of which edition was bound up different from the first portion, and was labeled the Riverdale Edition (Gilman, 1903).
| | |
| --- | --- |
| The Riverdale Edition featured plain white buckram cloth binding and came with blue cloth dust jackets. The same cloth had been used as the binding for the Underwood Edition. Both the jacket and the book featured paper labels giving the volume number and title. | Blue cloth dust jacket covered white buckram cloth binding of the Riverdale Edition. |
The Riverdale Edition was limited to 625 numbered sets and featured the limitation number in each volume on the same page with the authorized uniform edition statement on the back of the flyleaf.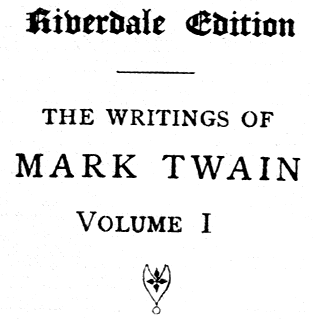 Riverdale Edition flyleaf appears in each volume of the edition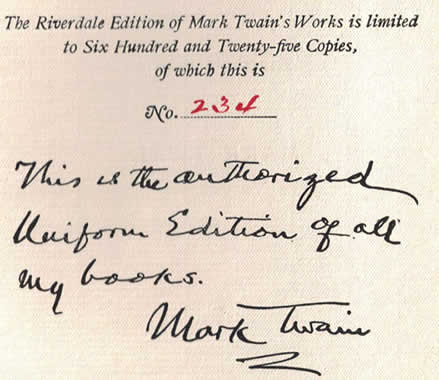 The limitation statement appears in each volume of the Riverdale Edition on the back of the flyleaf.


R. G. Newbegin imprint is found on the title page in all volumes of the Riverdale Edition.
A title page designed by Tiffany and Company and engraved by W. H. W. Bicknell appears in Volume 1 only of the Underwood, Riverdale and Hillcrest Editions. It features an SLC monogram surrounded by scenes from Mark Twain's life including a boat, stagecoach, train, and his home in Hartford, Connecticut. The lower left corner features a cabin depicting his humble birthplace at Florida, Missouri. The name of the edition is not specified on the Tiffany title page.

The original printing plate of this engraving is in the Kevin Mac Donnell collection.
The Riverdale Edition was also a major departure from the format of the earlier 1899 American Publishing Company Uniform Editions. This edition reduced the number of illustrations, photographic frontispieces, Tiffany title pages, and price. However, the Riverdale Edition was distinguished by hand-colored illustrations featured as frontispieces in eleven volumes. These colored illustrations had been offered by American Publishing Company to early subscribers of the 1899 Autograph Edition of Mark Twain's works. The colored illustrations were likely leftover stock from American Publishing Company's earlier sales inducements.
Riverdale Edition volumes containing a hand-colored frontispiece are:

Vol. 1 The Innocents Abroad
Vol. 3 A Tramp Abroad
Vol. 5 Following the Equator
Vol. 8 Roughing It
Vol. 9 Life on the Mississippi
Vol. 12 The Adventures of Tom Sawyer
Vol. 14 Pudd'nhead Wilson
Vol. 16 A Connecticut Yankee in King Arthur's Court
Vol. 19 Sketches New and Old
Vol. 20 Tom Sawyer Abroad / Tom Sawyer Detective
Vol. 22 How to Tell a Story and Other Essays


Hand colored illustration frontispiece from Vol. 9 Life on the Mississippi featured Mark Twain chatting with a riverboat pilot. These colored illustrations are a distinguishing characteristic of the Riverdale Edition.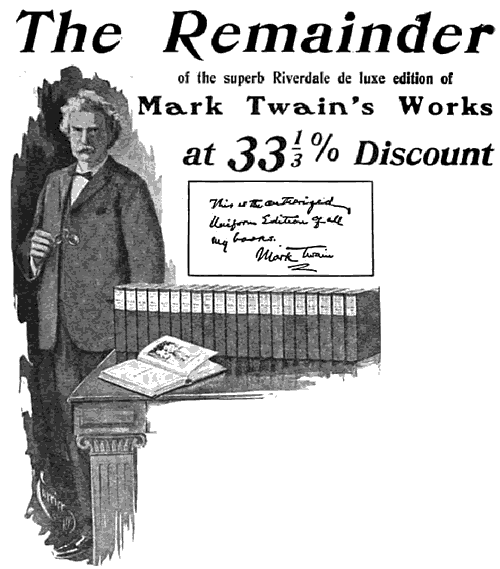 By 1904 the the Riverdale Edition was being sold at discount with buyers being given the opportunity to pay $4 a month for 12 months for the set. This ad with Mark Twain's picture appeared in National Magazine, March 1904 and was a departure from normal subscription sales.
_____
Summary of Features of Riverdale Edition
Limited to 625 sets
Limitation number written in red ink along with the statement, "This is the authorized Uniform Edition of all my books. Mark Twain" appears in each volume on the back of the flyleaf
White buckram cloth binding
Issued with blue cloth dust jackets -- cloth that had been used for the cover of the Underwood Edition
Each volume numbered on the spine with paper label; dust jackets also contained identical paper label
Eleven volumes feature hand-colored illustrations for frontispieces
Title pages feature both R. G. Newbegin imprints in conjunction with American Publishing Company
Volumes 1 - 22 feature title page date of 1901
Volume 23 added in 1903 and offered to buyers of original sets
Volumes 24 and 25 added by Harper and Brothers in 1906 and 1907 and offered to buyers of original sets
Top edges of pages gilt; side and bottom edges deckled or ragged.
Tiffany title page in Volume 1 only
Reduced number of full page illustrations formerly available in the 1899 Autograph, Author's Edition De Luxe, Edition De Luxe, Japan and Royal Editions
Illustrations protected by tissue guards
Price for initial sets of 22 volumes $75

_____
References
Johnson, Merle. A Bibliography of the Works of Mark Twain. (Harper and Brothers, 1935).
Gilman, George H. to John Larkin, 13 October 1903, reel #50 Archives of Harper and Brothers, 1817 - 1914.
Leary, Lewis, ed. Mark Twain's Correspondence with Henry Huttleston Rogers 1893-1909. (University of California Press, 1969).
Rasmussen, R. Kent. Critical Companion to Mark Twain, Volumes I and II. (Facts on File, 2007).
Rodney, Robert M. Mark Twain International. (Greenwood Press, 1982).