Founded in 1866 by William Conant Church (1836 - 1917) and his brother Francis Pharcellus Church (1839 - 1906), THE GALAXY became one of America's leading monthly magazines for a short time during the 19th century. Mark Twain contributed two stories to the magazine in 1868. In 1870 Twain accepted an arrangement with the Church brothers to write a department for the magazine called "MEMORANDA." Twain's contributions usually ran about ten pages in length.
Twain's "MEMORANDA" appeared monthly from May 1870 - April 1871. The column did not appear in March 1871. (An item in the May 1871 issue was reprinted years later and attributed to Mark Twain. It is included in this collection for research purposes.) In August 1871, an additional contribution titled "About Barbers" appeared in "THE GALAXY CLUB-ROOM" department.
THE GALAXY ceased publication in 1878 and sold its subscription list to the ATLANTIC MONTHLY. Francis "Frank" P. Church later worked as an editorial writer for the New York Sun newspaper. Today Francis P. Church is best known for his Christmas editorial that appeared in the Sun on September 21, 1897 commonly referred to as "Yes, Virginia, there is a Santa Claus."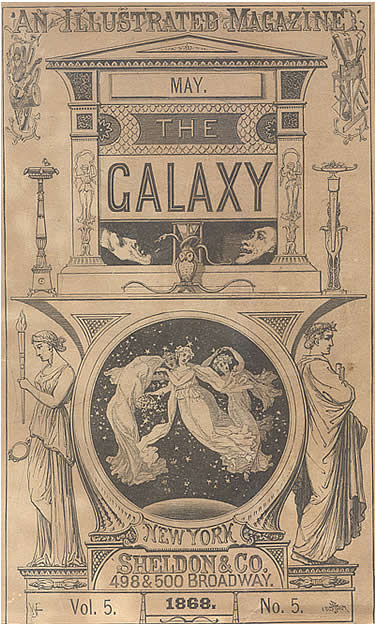 Original GALAXY magazine from the
Dave Thomson collection.