Refining the Work
When Frank Bliss of American Publishing Company issued Sketches, New and Old in the 1899 uniform edition, Clemens had an opportunity to revise and refine his work. However, the extent of his participation in the project was limited to marking up a copy of the old index indicating "Dates of WRITING -- & usually of publicat[ion] to the best of my recollection ... I think that the things whose dates I have forgotten were mainly squibs which I put into a 'Department' in the Galaxy magazine in 1869-70 -- or possibly it was '70-'71" (Branch and Hirst, p. 652). Bliss utilized the dates Clemens had provided as footnotes on the first page of a number of the sketches. A number of the dates Clemens provided were simply wrong and Bliss apparently never checked to verify them. For example, "A True Story" was published in Atlantic Monthly, November 1874. The date of 1876 which appears in the lower right corner of the page from the 1899 uniform edition of Sketches, New and Old is an error by Clemens himself.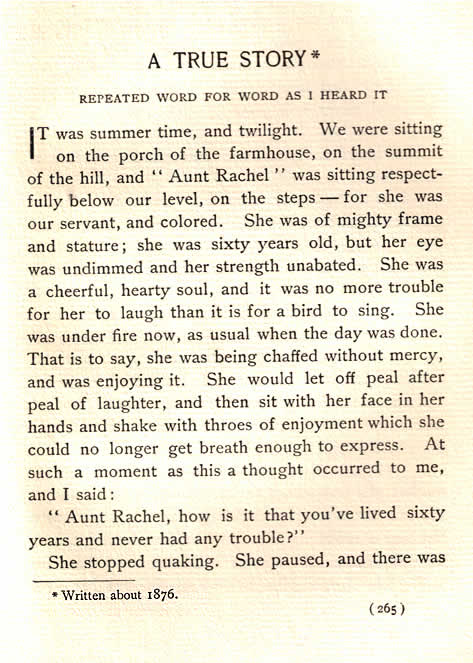 Page from 1899 edition of Sketches, New and Old showing date error of 1876.

Bliss eliminated one sketch titled "The 'Blind Letter' Department, London P.O." from the 1899 uniform edition, probably because it consisted mainly of illustrations. Thus the number of sketches in the 1899 uniform edition totals 62.
Production of the new 1899 plates also had the potential to introduce inconsistencies into the texts that were the result of typesetting errors.
Frank Bliss intended to correct any errors for subsequent printings and hired Forrest Morgan (b. 1852 - d. 1924), a fastidious proofreader, to weed out errors. Morgan, a former editor of the Hartford Travelers Record and later an assistant librarian at Watkinson Library in Hartford, read from a set of the Royal Edition to mark errors.

Clemens was familiar with the work of Forrest Morgan in Travelers Record. When Clemens wrote "Stirring Times in Austria" in 1897 he quoted from a long passage he credited to Morgan to describe the history of disunity in the Austro-Hungarian empire. "Stirring Times in Austria" was published in Harper's Monthly in March 1898 and is reprinted in Volume 22.

Morgan's 22-volume set of the Royal Edition with his annotations is in the Beinecke Rare Book and Manuscript Library at Yale University, a gift from William Lyon Phelps in 1922.


Forrest Morgan, proofreader for the 1899 uniform edition, helped refine the works for subsequent editions.
Evidence suggests Morgan corrected some of the texts and compared some of them with the original Galaxy printings. However, the original text of Sketches, New and Old remained virtually unchanged throughout Clemens's lifetime.
Different Titles on the Spines
Frank Bliss planned at least three volumes of Mark Twain's sketches with Volume 19, Sketches, New and Old, being the first. However, instead of using the book's title on the spine of the volume, Bliss instead chose to identify the book as Volume XIX / Short Stories and Sketches I. This designation appears in all the uniform editions published by American Publishing Company including Autograph Edition, Edition De Luxe, Japan Edition, Author's De Luxe Edition, Royal Edition, Underwood Edition, Riverdale Edition and Hillcrest Edition. However, with the Harper Author's National Editions of 1909, the title appearing on the spine of Volume 19 was changed to match the title of the work and perhaps reduce confusion.
| | |
| --- | --- |
| Spines for Volumes 19, 20, and 21 from Underwood Edition identifying the volumes only as Short Stories and Sketches | Harper's editions of Volume 19 list the title of the work on the spine |
W. H. W. Bicknell's Contributions

William Harry Warren Bicknell
photo courtesy of the Winchester, Massachusetts Archival Center

Frank Bliss hired new illustrators for the 1899 uniform edition. Artist and etcher William Harry Warren Bicknell (b. 1860 - d. 1947) was born in Boston, Massachusetts, the son of a grocer. Bicknell graduated from the Boston Latin School in 1878 and later studied at the Boston Museum of Fine Arts. He was a pupil of Otto Grundmann and Frederic Crowningshield. Bicknell etched a number of frontispieces made from photographs of Clemens that were used throughout the set. Bicknell's etching of the Tiffany monogram appears as a title page in every volume of the Autograph Edition, Edition De Luxe, Japan Edition, Author's De Luxe Edition, and the Royal Edition. All of these editions began issuing in 1899.

Less expensive editions such as Underwood, Riverdale, and Hillcrest feature the Tiffany title page in Volume 1 only. It was eliminated altogether from the Author's National Edition.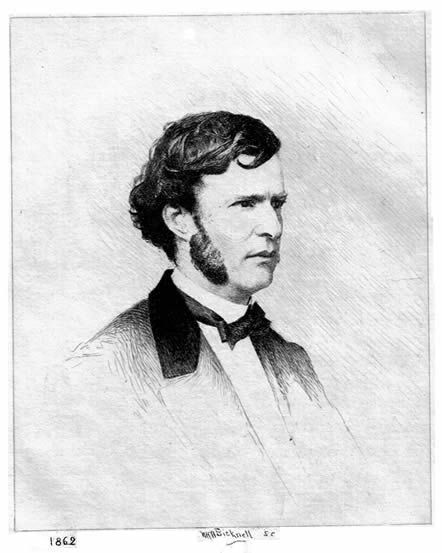 Frontispiece of Volume 19 etched by William Harry Warren Bicknell based on a photograph from 1862.


Frederick Burr Opper, Illustrator
Frederick Burr Opper (b. 1857 - d. 1937) was born in Madison, Ohio. His father Lewis was an Austrian immigrant and his uncle Adolph Opper was known as "De Blowitz," a Paris correspondent of The Times of London in the 1880s.

Opper attended public schools in Madison, Ohio and at age fourteen began work as a printer's devil at the local Madison Gazette newspaper. Some of his earliest humorous drawings appeared in the magazines Wild Oats, St. Nicholas, Scribner's and Century. Opper moved to New York and studied briefly at Cooper Union and also for short time was a pupil of Frank Beard, older brother of Daniel Carter Beard. At age twenty he was employed on the staff of Frank Leslie's publications where he worked for three years. In February 1880 he joined the staff of Puck and remained with that publication until May 1899. He was hired away from Puck by William Randolph Hearst to draw political cartoons and comic strips for Hearst's New York Journal and remained with Hearst's newspaper for the next 33 years becoming one of America's most popular and wealthiest political cartoonists.

Opper contributed six full-page illustrations to the 1899 uniform edition of Sketches, New and Old. A receipt from Opper to American Publishing Company survives in archives at the University of Virginia Library, Special Collections indicating that Opper was paid $360 on February 8, 1899 for his six illustrations.


Frederick Burr Opper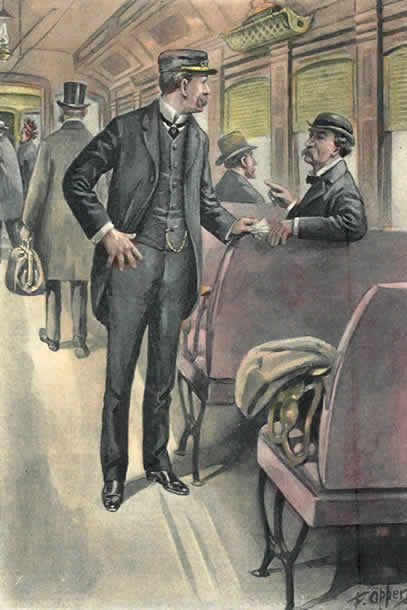 Opper's illustration titled "Who Is That Man?" from "Cannibalism in the Cars" featuring Mark Twain
was hand-colored and used as the frontispiece for the 1901 Riverdale Edition.
Opper's name appears in Clemens's Stormfield Guest Book for September 20, 1908, a few days after burglars invaded Clemens's mansion in Redding, Connecticut. No further details of Opper's visit with Clemens have been found. However, newspapers across the country were publishing cartoons related to the burglary and although none by Opper have been found, it is possible he may have visited with that purpose in mind.


References
Blanck, Jacob, compiler. Bibliography of American Literature, Volume Two. (Yale University Press, 1957).
Branch, Edgar Marquess Branch and Robert H. Hirst, eds. The Works of Mark Twain: Early Tales & Sketches, Volume 1: 1851-1864. (University of California Press, 1979).
Duff, O. S. "Frederick Burr Opper, Most Humorous Cartoonist of the Day," Common Sense, Volume 9, January 1909, p. 11. Online via google books.
Flower, Benjamin Orange. "Frederick Opper: A Cartoonist of Democracy," The Arena, Volume 33, June 1905, pp. 583 - 593. Online via google books.
"Frederick Opper, Comic Strip Artist," The New York Times, 28 August 1937, p. 15.
Mark Twain Project online database of letters from the Mark Twain Papers/Project at the University of California at Berkeley.
Rasmussen, R. Kent. Critical Companion to Mark Twain, Volumes I and II. (Facts on File, 2007).
Twain, Mark. Sketches, New and Old. Japan Edition. (American Publishing Company, 1899).
_____. Sketches, New and Old. (Oxford University Press, 1996).
West, Richard Samuel. Satire on Stone: The Political Cartoons of Joseph Keppler. (University of Illinois Press, 1988).