W. H. W. Bicknell's Contributions

William Harry Warren Bicknell
photo courtesy of the Winchester, Massachusetts Archival Center

Frank Bliss hired new illustrators for the 1899 uniform edition. Artist and etcher William Harry Warren Bicknell (b. 1860 - d. 1947) was born in Boston, Massachusetts, the son of a grocer. Bicknell graduated from the Boston Latin School in 1878 and later studied at the Boston Museum of Fine Arts. He was a pupil of Otto Grundmann and Frederic Crowningshield. Bicknell etched a number of frontispieces made from photographs of Clemens that were used throughout the set. Bicknell's etching of the Tiffany monogram appears as a title page in every volume of the Autograph Edition, Edition De Luxe, Japan Edition, Author's De Luxe Edition, and the Royal Edition. All of these editions began issuing in 1899.

Less expensive editions such as Underwood, Riverdale, and Hillcrest feature the Tiffany title page in Volume 1 only. It was eliminated altogether from the Author's National Edition.

Frontispiece Portrait by Charles Noel Flagg
The frontispiece for Volume 14, Pudd'nhead Wilson and Those Extraordinary Twins, represents the first departure in the 1899 series away from Bicknell's engraved frontispieces. The frontispiece is from an 1891 painting of Clemens by Charles Noel Flagg (b. 1848 - d. 1916). Born in New York, Flagg had studied art in Paris for ten years. He was a resident of Hartford, Connecticut when he painted Clemens's portrait. Flagg was a well-regarded artist, teacher, and founder of the Connecticut League of Art Students. He was also a contributor to Atlantic Monthly magazine and other publications.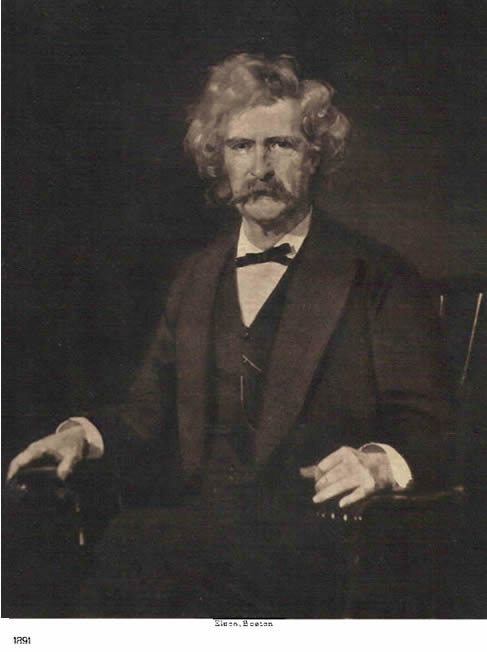 Frontispiece by Elson Company of Boston from painting of Clemens by Charles Noel Flagg, 1891
The frontispiece is signed "Elson, Boston." The Elson Company of Boston was founded by Alfred Walter Elson (b. 1859 - d. 1944) who began in the art printing business in 1888. Elson also became associated with Harvard University as a lecturer on printing and publishing.

Edward Windsor Kemble, Illustrator
| | |
| --- | --- |
| Edward Windsor Kemble (b. 1861 - d. 1933) was born in Sacramento, California, the son of Edward Cleveland Kemble who founded the San Francisco Alta California. His first attempts at drawing were those of Indians drawn when he was about eleven years old and traveling with his father throughout the West. In the winter of 1880-1881 he attended class in New York at the Art Students' League. After that brief stint, Kemble became largely self-taught and obtained a job as a cartoonist at New York's Daily Graphic. When Life magazine was founded in 1883 he became a contributor to that publication. When Clemens saw some of his Negro drawings in Life magazine, he recruited him to illustrate the first edition of Huckleberry Finn. After the success of Huckleberry Finn, Century magazine made him an offer for all of his work outside of book publications. He remained with Century until 1891. Kemble died in 1933 with a lengthy list of book illustration work to his credit. | Edward Windsor Kemble |
In a letter from Kemble to Frank Bliss dated May 16, 1898, Kemble told Bliss he would be happy to join the "goodly company" of artists and provide illustrations for "a volume of Mark Twain." Bliss had also awarded Kemble the illustrating assignment for the 1899 edition of Adventures of Huckleberry Finn. For Pudd'nhead Wilson and Those Extraordinary Twins, Kemble provided six new full-page pictures to illustrate the Pudd'nhead Wilson chapters of the book.
One of Kemble's illustrations titled "Buckstone Training with the Rum Party" was hand-colored and used as the frontispiece for the 1901 Riverdale Edition.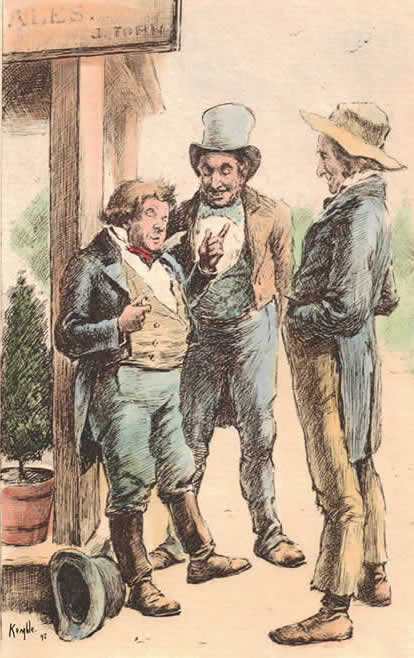 Kemble's "Buckstone Training with the Rum Party" from the 1901 Riverdale Edition
Scholarly Misinterpretation of Kemble's Roxy
Kemble's previous style of depicting black people as unattractive caricatures was unchanged throughout Pudd'nhead Wilson. His drawings of the central character Roxy, who was only 1/16 black, depict a less attractive woman than the illustrations of her by Louis Loeb which had appeared in the Century Magazine serialization. Kemble's image would be the one presented to the greatest number of American readers for years to come and one illustration in particular became the source of scholarly misidentification and misinterpretation.
The 1899 edition of Pudd'nhead Wilson features two illustrations of Roxy, both in the company blacks. In 1901 American Publishing Company authorized the Underwood Edition which contained fewer illustrations. Only one illustration of Roxy was used and it was featured prominently as a frontispiece. The decision to present the below illustration as the first one a reader would see was repeated by Harper and Brothers in subsequent uniform editions. It has been a source of misunderstanding for critics who were not adept at reading the picture and who never had an opportunity to see Kemble's other illustration of Roxy.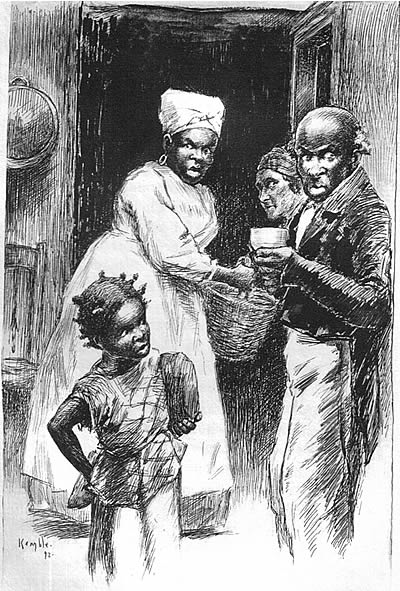 Kemble's "Roxy Harvesting Among the Kitchens" was featured as the frontispiece of uniform editions after 1901. Her body is hidden behind the two black adults and only her face is shown. Some critics concluded the prominent black woman was Kemble's misinterpretation of Roxy.
Further discussion of Kemble's illustrations is available online at the University of Virginia website in an article titled "Illustrating Pudd'nhead."

Frank M. Senior, Illustrator
Frank M. Senior (b. 1849 - d. 1903) was a relatively obscure illustrator at the time he got the assignment from Frank Bliss for the majority of the illustrating work for the 1894 first edition of The Tragedy of Pudd'nhead Wilson and the Comedy Those Extraordinary Twins. Senior remains relatively unknown today with little historical evidence available to track his career. A search of the U.S. Censuses provides clues to his background. He was the son of a tinner named Thomas Senior, born in Scotland, and his wife Amanda, born in Connecticut. An article in the Brooklyn Daily Eagle on June 20, 1898 indicates Senior was a director of Cox Engraving Company of New York City. A death list in The New York Times published on April 17, 1903 listed him by name as dying on April 15 in Brooklyn without any additional details.
Senior contributed only one illustration for the 1899 uniform edition of Pudd'nhead Wilson and Those Extraordinary Twins. The full-page drawing served as a frontispiece for the section of the book titled "Those Extraordinary Twins." It is a revised version of his same illustration from the first edition.

Senior's 1894 illustration
"I Thought I Would Write a Little Story"

Senior's 1899 revised illustration
"I Thought I Would Write a Little Story"
Senior's revised illustration featured an actual photograph of Mark Twain in a white suit cut out and imposed over the original illustration to which Senior had extensive shading and detail.
References
Brennan, Jonathan. Mixed Race Literature. (Stanford University Press, 2002).
"Brooklynites Interested," Brooklyn Daily Eagle, 20 June 1898, p. 7.
"Charles Noel Flagg Dies Suddenly," The Hartford Courant, 11 November 1916, p. 8.
"Deaths Reported April 16," The New York Times, 17 April 1903, p. 9.
"Edward Windsor Kemble," Book Buyer, Volume 11, July 1894, pp. 293 - 296. Online via google books.
"E. W. Kemble Dies, Noted Pen Artist," The New York Times, 20 September 1933, p. 21.
Graduate School of Business Administration of Harvard University. (Cambridge, 1917). Online via google books.
Hill, Hamlin. Mark Twain's Letters to His Publishers, 1867 - 1894. (University of California Press, 1967).
Kemble, Edward Windsor to Frank Bliss, 16 May 1898. (Kevin Mac Donnell collection. Quoted in personal correspondence from Mac Donnell, 22 May 2004).
Osborn, Norris Galpin. Men of Mark in Connecticut. (William R. Goodspeed, 1906). Online from google books.
Rasmussen, R. Kent. Critical Companion to Mark Twain, Volumes I and II. (Facts on File, 2007).
Twain, Mark. The Tragedy of Pudd'nhead Wilson and the Comedy Those Extraordinary Twins. (Oxford University Press, 1996).
_____. The Tragedy of Pudd'nhead Wilson and the Comedy Those Extraordinary Twins. Sidney E. Berger, ed. A Norton Critical Edition. (W. W. Norton and Company, 1980).
Who Was Who In America, Vol. 2. (The A. N. Marquis Company, 1950).