A History of and Guide to
UNIFORM EDITIONS OF MARK TWAIN'S WORKS
"A book of mine where a sound heart and a deformed conscience come into collision and conscience suffers defeat."
- Samuel Clemens's notebook #35
Chapter 16
Brief Overview of Volume 13:
Adventures of Huckleberry Finn
Early Editions
Adventures of Huckleberry Finn is the novel that marked the birth of American literature. Clemens composed the book over a period of eight years beginning in 1876. The story of an uneducated youth encountering slavery and racism is written in uniquely American dialects. Clemens published extracts of this forthcoming book, which would be published by his own Webster and Company, in the December 1884 and January and February 1885 issues of Century Magazine. He also embarked on a lecture tour across the East and Midwest with George Washington Cable during these months and read extracts from the soon-to-be-released novel to his audiences.
Clemens hired illustrator Edward Windsor Kemble to provide about 175 pictures for the book He had mixed reactions to Kemble's work at one point writing to Charles Webster
Refining the Work
In an agreement between Harper and American Publishing Company, dated December 31, 1896, American Publishing Company acquired the rights to include Adventures of Huckleberry Finn in their 1899 uniform edition of Mark Twain's works. Under a second agreement dated November 11, 1898 Frank Bliss was allowed to manufacture new printing plates that would immediately become the property of Harper and Brothers. By producing a new set of plates in Hartford, Bliss could save transportation costs and insurance involved in shipping the plates from New York.
The 1899 uniform edition of Adventures of Huckleberry Finn offered Clemens the opportunity to revise or refine his masterpiece. The most comprehensive examination of the texts of the early editions of the work was conducted by the editors of the Mark Twain Project for the 2003 edition of Adventures of Huckleberry Finn published by University of California Press. There is no evidence Clemens authorized any changes in the text. However, the new 1899 plates introduced yet another round of inconsistencies into the original texts that were the result of typesetting errors.
Frank Bliss intended to correct any errors for subsequent printings and hired Forrest Morgan (b. 1852 - d. 1924), a fastidious proofreader, to weed out errors. Morgan, a former editor of the Hartford Travelers Record and later an assistant librarian at Watkinson Library in Hartford, read from a set of the Royal Edition to mark errors.

Clemens was familiar with the work of Forrest Morgan in Travelers Record. When Clemens wrote "Stirring Times in Austria" in 1897 he quoted from a long passage he credited to Morgan to describe the history of disunity in the Austro-Hungarian empire. "Stirring Times in Austria" was published in Harper's Monthly in March 1898 and is reprinted in Volume 22.

Morgan's 22-volume set of the Royal Edition with his annotations is in the Beinecke Rare Book and Manuscript Library at Yale University, a gift from William Lyon Phelps in 1922.


Forrest Morgan, proofreader for the 1899 uniform edition, helped refine the works for subsequent editions.
Regarding the 1899 text of Huckleberry Finn, Morgan was dismayed with the typesetting and printing errors and wrote, "This ... is, take it all in all, the rottenest read book for combined sluttish carelessness and impudence, that I have struck in the series" (Twain, 2003, p. 806).
W. H. W. Bicknell's Contributions

William Harry Warren Bicknell
photo courtesy of the Winchester, Massachusetts Archival Center

Frank Bliss hired new illustrators for the 1899 uniform edition. Artist and etcher William Harry Warren Bicknell (b. 1860 - d. 1947) was born in Boston, Massachusetts, the son of a grocer. Bicknell graduated from the Boston Latin School in 1878 and later studied at the Boston Museum of Fine Arts. He was a pupil of Otto Grundmann and Frederic Crowningshield. Bicknell etched a number of frontispieces made from photographs of Clemens that were used throughout the set. Bicknell's etching of the Tiffany monogram appears as a title page in every volume of the Autograph Edition, Edition De Luxe, Japan Edition, Author's De Luxe Edition, and the Royal Edition. All of these editions began issuing in 1899.

Less expensive editions such as Underwood, Riverdale, and Hillcrest feature the Tiffany title page in Volume 1 only. It was eliminated altogether from the Author's National Edition.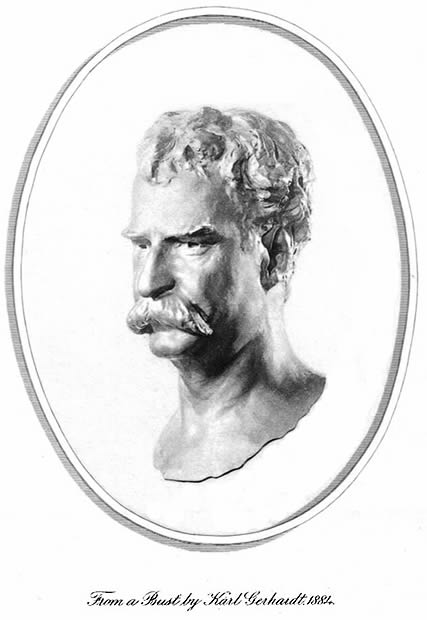 Frontispiece of Volume 13 etched by William Harry Warren Bicknell is a portrait of the bust of Mark Twain sculpted by Karl Gerhardt in 1884. Bicknell did not sign this frontispiece. Instead, Karl Gerhardt signed the page in the 1899 Autograph Edition series.


Edward Windsor Kemble, Illustrator
In spite of Clemens's mixed reactions toward the work Edward Windsor Kemble had done on the first edition of Huckleberry Finn, Frank Bliss must have felt he was the best choice to provide illustrations for the 1899 edition. In a letter from Kemble to Frank Bliss dated May 16, 1898, Kemble told Bliss he would be happy to join the "goodly company" of artists and provide illustrations for "a volume of Mark Twain."
| | |
| --- | --- |
| Edward Windsor Kemble (b. 1861 - d. 1933) was born in Sacramento, California, the son of Edward Cleveland Kemble who founded the San Francisco Alta California. His first attempts at drawing were those of Indians drawn when he was about eleven years old and traveling with his father throughout the West. In the winter of 1880-1881 he attended class in New York at the Art Students' League. After that brief stint, Kemble became largely self-taught and obtained a job as a cartoonist at New York's Daily Graphic. When Life magazine was founded in 1883 he became a contributor to that publication. When Clemens saw some of Kemble's Negro drawings in Life magazine, he recruited him to illustrate the first edition of Huckleberry Finn. After the success of Huckleberry Finn, Century magazine made Kemble an offer for all of his work outside of book publications. He remained with Century until 1891. Kemble died in 1933 with a lengthy list of book illustration work to his credit. | Edward Windsor Kemble |
Kemble provided four new full-page illustrations for the 1899 edition of Adventures of Huckleberry Finn. Kemble's style was consistent in that his black people were still drawn with unattractive faces. One new scene from the text that Kemble chose to illustrate was from Chapter 18 depicting an episode from the Shepherdson - Grangerford feud.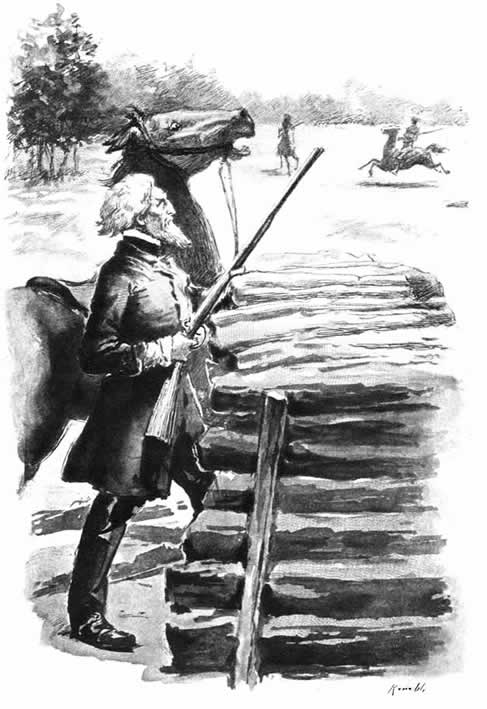 Kemble's illustration titled "He Got Behind a Little Woodpile"
Kemble's illustration from Chapter 18 titled "He Got Behind a Little Woodpile" was dropped from most subsequent editions after 1899 and is one of his lesser known drawings for Huckleberry Finn.

References
"Edward Windsor Kemble," Book Buyer, Volume 11, July 1894, pp. 293 - 296. Online via google books.
"E. W. Kemble Dies, Noted Pen Artist," The New York Times, 20 September 1933, p. 21.
Kemble, Edward Windsor to Frank Bliss, 16 May 1898. (Kevin Mac Donnell collection. Quoted in personal correspondence from Mac Donnell, 22 May 2004).
Mark Twain Project online database of letters from the Mark Twain Papers/Project at the University of California at Berkeley.
Rasmussen, R. Kent. Critical Companion to Mark Twain, Volumes I and II. (Facts on File, 2007).
Webster, Samuel Charles. Mark Twain, Business Man. (Little, Brown and Company, 1946).
Twain, Mark. Adventures of Huckleberry Finn. Royal Edition (American Publishing Company, 1899).
_____. Adventures of Huckleberry Finn, The Works of Mark Twain. Victor Fischer and Lin Salamo, eds. (University of California Press, 2003).